Why NMB's Sh200 billion 'Elimu Loan' initiative matters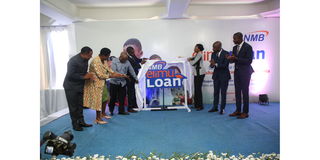 Summary
The scheme seeks to help workers interested in pursuing further studies and those seeking funds to educate their dependents
Dar es Salaam. While the sustainability and efficiency of higher education funding is becoming a challenge and a burden on the government, NMB Bank has started to provide low-cost loans for financing education by introducing a new lending service for salaried workers.
The scheme seeks to help workers interested in pursuing further studies and those seeking funds to educate their dependents.
Announcing the launch of the new credit facility yesterday in Dodoma, NMB Bank chief executive Ruth Zaipuna said the bank has allocated Sh200 billion for lending, with interest being pegged at nine percent.
Apart from higher education, the new service, dubbed "NMB Elimu Loan", will also finance other levels of education, as well as funding vocational training.
Ms Zaipuna said financial assistance for steadily increasing enrolment in tertiary education will be serviced in 12 months.
Borrowers will each be eligible for between Sh200,000 and Sh10 million annually, provided their salaries are paid through NMB Bank, she explained.
"We have launched this credit service here today in Dodoma, but the loans will be provided in all our branches across the country," Ms Zaipuna said.
 "To get this loan, you only need to go to any NMB branch with a copy of your salary slip, the fees structure, the admission letter from a college and NMB Bank staff will readily calculate the size of the loan you are qualified to get."
By rolling out the student financing facility, NMB Bank has now fulfilled the commitment it made last year when it pledged to help the government in providing students with loans to enable them pursue further studies.
The bank embarked on the education financing investment after agreeing in principle with the government through the Education ministry in late 2022 to offer low-interest education loans.
"As major education stakeholders, we are cooperating with the government in this endeavour for the benefit of our fellow Tanzanians," Ms Zaipuna said.
In his remarks, the Minister for Education, Science, and Technology, Prof Adolf Mkenda, called for similar support and commitment from other corporate stakeholders, saying funding of NMB's size would be transformational.
He said the financing investment the bank has made means that more people will be accorded the opportunity to finance their own education and that of those they wish to sponsor.
The borrowed funds will be deposited directly in the accounts of the respective schools or colleges.
Prof Mkenda also said despite funds for high education loans having increased from Sh464 billion when the Sixth Phase Government took over to Sh657 billion in the current financial year, initiatives like NMB Elimu Loan are still needed to support national education financing efforts.
For his part, the chair of Parliament's Education, Culture and Sports Committee, Prof Kitila Mkumbo, said the new NMB service was more than a commercial venture since it was also an impactful development undertaking.
Last year, the government disclosed a plan to expand allocation of higher education loans to students in technical colleges, a decision seen as crucial for growth of the sub-sector.
The Education ministry noted that it had looked at the importance of extending loans to technical education, starting with diploma programmes offering skills that are much needed by employers, possibly from the 2023/2024 academic year.
However, there are concerns about whether the Higher Education Students Loans Board (HESLB) can continue to sustainably fund students, whose number keeps increasing every year. The government is thus encouraging stakeholders, including banks, to play a role in funding education for Tanzanians.
Reports indicate that in the past ten years, the number of students joining universities in the country has increased from 44,715 in 2012/13 to 100,620 in 2021/22, which is an increase of 125 percent.
In recent years, the number of students who need higher education loans has been increasing at a faster pace than the increase in the relevant budget, prompting the government to find ways to accommodate eligible but needy students.
This academic year, the government has added Sh84 billion to the Sh570 billion that had been allocated for HESLB due to high demand, taking the allocation to Sh654 billion, which was set to benefit at least 200,000 students.
Experts explain that local banks have an opportunity to make the government's plan to extend loans to technical institutions and sustainability of the HESLB fund a reality.
"Let's assume that all the banks in the country decided to allocate an amount equal to that given by NMB in parallel with giving scholarships to students who do well, we would eventually not have the high demand that we currently witness," Dr Judith Mmari, an economic and development expert, said.
"HESLB will not be overburdened if there are cheap loans from our banks. This will help to ensure that the number of students who come from wealthy families on the institution's loans decrease."