World Bank ranks Dar port highly amid calls for privatisation of services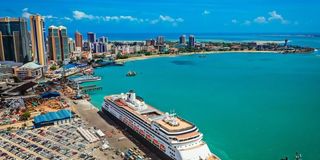 Summary
World Bank index ranks Dar es Salaam Port 312th globally, well ahead of its closest regional competitor, Mombasa, which has been placed 326th
Dar es Salaam. While some lawmakers have called for the privatisation of port operations to increase efficiency, a new World Bank report paints a rosy picture of the port situation in Tanzania.
The World Bank has ranked Dar es Salaam as the leading port in East Africa.
Debating the Works and Transport ministry's 2023/24 budget proposals in Parliament in Dodoma yesterday, some MPs urged the government to allow private investors to run the country's ports to boost productivity and enable Tanzania to utilise their full potential.
The calls came a few days after the World Bank released its third edition of the Container Port Performance Index 2022, which places Dar es Salaam Port 312th globally, well ahead of its closest regional competitor, Mombasa, which has been placed 326th.
The CPPI is a data-based comparable index that ranks 348 global container ports according to their efficiency based on vessel time in port and plays a crucial role in determining the competitiveness and effectiveness of ports worldwide.
Mr Joseph Kasheku (Geita Rural-CCM) said the government should consider privatising port operations in Tanzania and emulate the Gulf states, "where the majority of ports are run by the private sector".
"We are building a ship in Mwanza and there are train wagons coming, but if someone wants to invest, or establish something, people will start saying, 'Oh, this white man, I don't know what will happen.' We will not attain anything in that style," he said.
Mr Livingstone Lusinde (Mvumi-CCM) said he does not understand where fears about privatisation of local ports come from, adding that delays in clearing cargo are still prevalent, making services expensive.
His views were echoed by Mr Elibariki Kingu (Singida West-CCM), who said cargo was still held up at ports for longer than necessary, resulting in inflated costs that were borne by customers.
However, Dar es Salaam Port's higher ranking compared to Mombasa suggests that significant strides have been made in optimising operations, improving logistics and enhancing overall performance.
Tanzania Ports Authority (TPA) director general Plasduce Mbossa told The Citizen that this is a result of nearly Sh1 trillion in investment made at the port through the Dar es Salaam Maritime Gateway Project (DMGP).
He said the project has involved the improvement of berths number 1 to 7 by increasing their depths to 14.5 metres from the previous seven metres.
"The increase in the depth of the berths now makes it possible for third-generation ships, which can carry up to 6,500 tonnes of cargo, to dock. Through these improvements, the number of cargo ships being handled has doubled from the number that was being served before this project was implemented."
Mr Mbossa said new cargo handling equipment was purchased, including modern ship-to-shore gantry cranes that are capable of handling cargo directly from ships to land at twice the speed and efficiency of equipment that was used previously.
"The port has attracted many shipping companies that now bring their ships to Dar es Salaam Port because they spend less time at port and thus save them operating costs compared to other ports," he said.
The TPA chief added that part of the authority's future plans is to cooperate with the largest port operators in the world to benefit from their extensive experience and networks.