Stella Moses' family to appeal ruling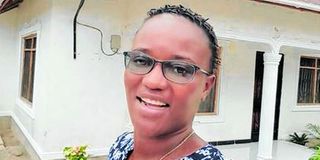 What you need to know:
Stella Moses passed away while in police custody in Dar es Salaam, and her death has been ruled a suicide.
Advocate Peter Madeleka, who represented the family that brought the suit against the police over claims of the wrongful death of their kin, Stella Moses, while in police custody in Dar es Salaam, has said that he is going to appeal against the ruling that declared the death a suicide.
Speaking on a social audio space, a day after the ruling was made, Madeleka said that the lower court's ruling is more ceremonial; "it is not entirely binding because one can appeal against it, and that is what we are going to do. We will appeal to the High Court and even the Court of Appeal if we have to," he said.
Mr Madeleka said that he wants to deter the habit of people dying in police custody, but nothing is done about it. "We want to show that there is a remedy."
"For anyone who loves justice, we cannot let this judgment by the Coroner's Court stand," he added.
Ms Moses died while in police custody in 2020. Her death was ruled a suicide; however, her family felt that there was more behind the death of their beloved and so filed a suit to do an independent investigation.
The final ruling of the Coroner's Court sided with the police and declared the death a suicide.
Another lawyer based in Dar es Salaam said that this case will make police officers aware that once a death occurs at the police station, it will be investigated.