Ruto urges swift removal of EAC trade restrictions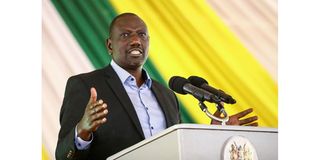 Summary
Mr. Ruto said the existing boundaries between the African countries were a product of the Berlin Conference "that partitioned our continent and allocated us boundaries."
Arusha. President William Ruto of Kenya is appealing for the swift removal of barriers hampering trade in East Africa.
He said in Nairobi on Tuesday that barriers at border lines were impeding the movement of people, goods, and services.
"Removal of such barriers is necessary for sustainable growth and development in the East and Horn of Africa regions," he said.
The Kenyan leader criticised political boundaries as "old-fashioned and divisive" and urged the region to work together to build bridges of friendship.
"We must not give credibility to the artificial boundaries that exist in our region," he said when he launched a flagship report on migration in the EA and Horn of Africa blocs.
Mr. Ruto said the existing boundaries between the African countries were a product of the Berlin Conference "that partitioned our continent and allocated us boundaries."
"We must bring down these barriers, convert them to stepping stones, and build bridges of friendship," said President Ruto.
The report titled "State of Migration in the East and Horn of Africa'' was prepared for the East African Community (EAC) and Intergovernmental Authority on Development (Igad).
Also roped in is the International Organisation on Migration (IOM), whose regional director, Mr Mohammed Abdiker, noted that the report examines the various aspects of migration.
These are the free movement of goods and services and the free movement of persons, which are essential to harnessing the benefits of intra-African trade.
Another is labour mobility and economic integration, safer human mobility, and integrated border governance, especially through One-Stop Border Posts (OSBPs).
He said the report would serve as "an intellectual compass" for defining the future policy agenda of the Regional Economic Communities (RECs) and governments.
For his part, EAC secretary general Peter Mathuki said policy suggestions made would be considered in addressing challenges in advancing the mobility dimensions of regional integration.
These will include labour migration and continued collaboration between RECs on areas of common interest.
"I am optimistic that practitioners and policymakers will find this report a valuable basis for migration-related policy development in an integrated region," he said.
Dr Mathuki added that the EAC was working on an improved legal and regulatory environment to provide for labour mobility by creating the necessary infrastructure in the refugee-hosting areas.
This, he explained, would attract private sector investment and empower them economically in collaboration with the UN Refugees Agency (UNHCR), Igad, and the African Development Bank (AfDB).
According to statistics, the EAC region is hosting about 3.3 million migrants in the form of refugees, of which Uganda hosts the highest number with 1.6 million refugees.
There are 469,414 refugees in Kenya; 467,744 in DR Congo; 308,374 in South Sudan; 191,042 in Tanzania; 128,064 in Rwanda; and 110,000 in Burundi.
Dr Mathuki noted that despite the challenges, migration has also brought about significant positive contributions to the region, including the transfer of skills and knowledge and remittances.
Igad Executive Secretary, Dr Workneh Gebeyehu, said the level of analysis and evidence provided by the report is a true reflection of the state of migration in the region.
"Igad stands ready to implement the recommendations and suggestions forwarded by the report jointly with Member States and partners," he reaffirmed