Thirst for death that lurked in the depth of Shakahola village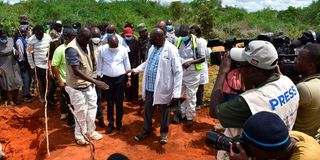 They were brutal, swift and slithered in the darkness like ghosts.
The thirst for death that lurked in the depth of their cold hearts could not have been quenched until they buried the dead, sometimes seven people in one grave in the now cursed Shakahola village in Kilifi.
Pastor Paul Mackenzie of Good News International Church and his associates in the suspected cult in which 90 people have so far been confirmed dead rode swiftly past the mud huts and glided between trees and thickets carrying bodies on motorcycles or bicycles.
On Tuesday alone, 17 bodies were exhumed.
And before running off to bask in their horrific exploits, they would pray and send scouts to get reports of any other dead victims to bury as ordered by Mackenzie.
The collaborators are among the 13 people in custody at the Malindi police station alongside Mackenzie.
In one area far away from Mackenzie's house in the expansive Shakahola forest, more than 80 bodies have been recovered in the nearly 50 by 100-foot space.
This has been so far the biggest area where bodies have been found as detectives are yet to start exhuming other marked graves.
Human traffic on the Shakahola forest routes is minimal, which makes it easy for someone to conduct the kind of activities that were going on in the cult without being noticed.
Yesterday, Interior Cabinet Secretary Kithure Kindiki indicated that what happened at Mackenzie's church was 'the tip of the iceberg'.
"The government admits this should not have happened. We have opened a formal inquiry on another religious organisation based in Kilifi County. We are getting leads that perhaps what was being done at Mackenzie's was just the tip of the iceberg. The net has been cast wider to all other associates and collaborators of Mackenzie's evil," Prof Kindiki said when he visited the area.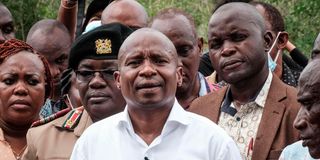 Last evening, the Nation established that a famous Kilifi pastor, his wife and his deputy were questioned by the Directorate of Criminal Investigations (DCI) over suspicious activities in their popular church.
Also, a Malindi court allowed homicide detectives permission to exhume all graves within Mackenzie's 800-acre farm no matter how long it takes.
This is after the investigating officer went to court yesterday seeking open orders. 
Previously, detectives had only been allowed to exhume 16 graves, including the one suspected to contain the bodies of two children.
However, the two bodies were not found yesterday.
"We suspect they were taken away. We are firming up investigations on their whereabouts because this is where it all began," a source privy to the ongoing investigations revealed to the Nation.
The children's parents had been followers of MacKenzie, who had reportedly instructed them to fast and attend his sermons.
They were not allowed to have water or food as they supposedly awaited the return of Jesus Christ.
A believer of the Good News International Church defended the pastor, saying he was innocent.
Mr David Mwamburi, 30, recently returned from Malindi to his home in Chakaleri, Taita-Taveta County, after his family launched a search for him and his wife.
Mr Mwamburi was born and raised in Taita-Taveta but went to Mombasa in 2009 to seek employment.
When in Mombasa, he started attending the Mackenzie-led church and he became a dedicated member. He admitted that the pastor taught his followers against believing in "worldly riches" and ungodliness.
Religious extremism
Mackenzie's ill teachings have been described as one of the worst cases of religious extremism in recent times in the country. 
Mr Mwamburi, however, defended the pastor. "He did not force us to starve to death, not go to hospital or school. He taught what the Bible said and left us to make our own choices. He has not radicalised us to starve to death so we can meet Jesus," he said. 
In 2018, Mr Mwamburi was among those who were arrested and charged after police raided the church following complaints by residents over the preacher's teachings to his flock not to take their children to school or hospital and to "abandon any earthly wealth for god".
The worshippers were charged at the Shanzu Law Court where they were released on a Sh5,000 cash bail as the case continued.
"The case was later dismissed because there was no sufficient evidence. We were innocent," Mr Mwamburi said.
His mother Eliza Wali and his sister Denice Mghoi said he went back home after they went public that he was missing. 
Ms Wali said her son was a worshipper at the church and they disagreed with the teachings of the controversial pastor. 
She said her son came home in 2021 and went back to Mombasa. He then went silent on his family. "Whenever we called him, he said he would come and if we don't meet here on earth, we will meet in paradise. That got me worried," she said.
By Monday, the Kenya Red Cross had documented 212 people missing in the organisation's tracing desk, following reports of the Shakahola massacre.
"Kenya Red Cross has set up a tracing desk to receive and process reports of missing persons. As of Monday, 99 males and 113 females were reported to be missing," the organisation said.
Additional reporting by Farhiya Hussein and Lucy Mkanyika