African folktales reimagined by Netflix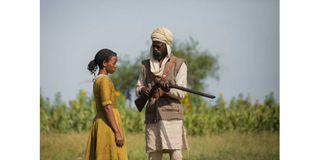 Summary
The  stories were selected from the pack coming from filmmakers, Korede Azeez (Nigeria), Voline Ogutu (Kenya), Mohamed Echkouna (Mauritania), Walter Mzengi (Tanzania), Gcobisa Yako (South Africa), and Loukman Ali (Uganda)
If you have been following African film for the past week, you have indeed heard about six short films that streaming site, Netflix, released on Wednesday, March  29.
The films were selected from 2,000 entries in 2022 when Netflix announced a competition in collaboration with Unesco.
The collaboration was to sponsor six up and coming African filmmakers to tell ancient stories, folktales and mythologies among others with a fresh thought, angle or totally retooling the narrative for an audience today.
The  stories were selected from the pack coming from filmmakers, Korede Azeez (Nigeria), Voline Ogutu (Kenya), Mohamed Echkouna (Mauritania), Walter Mzengi (Tanzania), Gcobisa Yako (South Africa), and Loukman Ali (Uganda).
Katera of the Punishment Island (Uganda)
Loukman does not really fit the label of up and coming, he's Uganda's first director with a film on Netflix and Amazon Prime, thanks to his The Girl in the Yellow Jumper and his first Nollywood film, Brotherhood respectively.
His Katera of the Punishment Island is not reimagining a folklore but reimagining a real place whose relevance was out of the rule of the day. Akampene or the Punishment Island as it has come to be known was a tiny island where girls who got pregnant out of wedlock were thrown to starve to death. Some, however, drowned while trying to swim to land.
Then, dowry was only paid for virgin girls, thus, taking girls to the punishment island was not only about getting pregnant early but for the loss of bride price.
In Katera of the Punishment Island, Loukman digs deep into his artillery of skills to deliver amazing cinematography, scenery, soundtrack and story to stun his audience. As an entertainer, he keeps his film entertaining, thus, he borrows a lot from the western folktales that are popular with guns and horses.
In 27 minutes, Loukman tackles love, motherhood, patriarchy and loss to tell a story of revenge. Expect a few action moves from his leads Michael Wawuyo Junior and Senior and Tracy Kababito.
Halima's Choice (Nigeria)
Korede Azeez's film was a surprising pick. For a competition that chose to reimagine African folktales, it was surprising that science fiction filtered through.
The film is set in the far future where the world has adopted AI. However, there is a secluded village in Nigeria that has rejected AI. That is where we meet Halima. When a stranger makes it to the village, Halima is infatuated by him and is willing to get off the path that is expected of her.
The film has themes that question what is real and what is not. It takes a lot of turns and twists that by the time it ends, it catches us by surprise. Either it is very confusing or it is grossly incomplete. Either way, Habiba Ummi and Adam Garba did an amazing job as leads.
Anyango and the Ogre (Kenya)
Voline Ogutu technically reimagines one of Africa's most renowned folklores here. The story of a mother protecting her children from a monster that will stop at nothing.
Ogutu adds nothing new to the tale but makes it a parallel story to the main story, it is story B and also an easier take of events that are unfolding. Helmed by Kenyan industrious actress Sarah Hassan , Anyango and the Ogre tackles a common evil, domestic violence and does it in ways that we are familiar with.
The film tries to show us how many families stay together, put up strong faces and smile even when home is actually a war zone.
In the form of value such as edutainment, Anyango and the Ogre score highly, the acting is also commendable from her husband, Lucarelli Onyango and the children, especially the eldest, Trevor James Kamau.
Enmity Djinn (Mauritania)
This is another cinematography marvel. Beautiful shoots that revisit a mythology of the Djinn.
Djinn is known in Islamic faith as an invisible spirit mentioned in the Koran and believed to inhabit the earth and influence mankind by appearing in the form of humans or animals. Djinn has also been fictionalised as Genie in adventures of Aladdin.
In Mohamed Echkouna's Enmity Djinn, an old woman is forced to deal with a djinn 75 years after it haunted her as a child.  It is a strong story that brings to the fore mythology that is at times confusing, especially if you know little or nothing about Djinn.
Whether Katope is a real folklore or just a story, it is something that we may need research on, but the story is famous in Tanzania. The story has always been about a boy who has super powers and is directly connected to rain or a water source.
Walter Mzengi tells the story of the boy in his way, he changes Katope to a girl, she risks all she can, including her life to save a village from a drought.
It is one of the best well told stories in the pack.
Mamlambo is a deity in South African and Zulu mythology, the "goddess of rivers", described as a large snake-like creature.
Gcobisa Yako's story follows a girl on a suicidal attempt that gets saved by the river and after a second chance at life, his direction and attitude towards life is redirected.
• Most of the films, if not all, are driven by women narratives, something that is refreshing. But it is also amazing to see that most of these films were directed by women. It brings fresh air to an African industry dominated by men.
• The three films we recommend out of the three are Anyango and The Ogre, Katera of the Punishment Island and Katope.