Nandy launches record label, gets thumbs up from Zuchu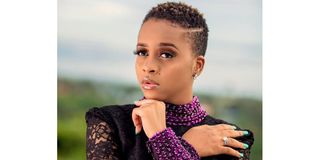 Bongo Flava songstress Nandy has announced the opening of her own record label, The African Princess, first one by a female artiste in Tanzania.
According to her the label will mainly target nurturing female musicians from across Africa.
In an Instagram post, Nandy expressed her excitement for achieving the milestone of owning a record label and according to her it is a dream come true, calling on her fans to support her baby steps.
" I officially bring to you the African Princess, a label that will involve only female artistes. As you can see there are very few female artistes in the industry. We have the hope that The African Princess will add more female talent especially those with the dreams to become musicians," reads the post.
Many of her followers were quick to congratulate her and one of them was Wasafi signee Zuchu took her official Instagram account and commented, 'Da Fau Hongera sana' which translates in Swahili as 'congratulation sister Fau'.
Her comment on Nandy post became the most liked comment from the post and followed by Nandy reply, 'thank you da zuu ni muda wetu sasaa' translate as 'thank you Zuu, now it's our time' which receive more than two hundred likes.
For years, there has been a rumor of the two were rivals because of their music accomplishment but also voice note which is alleged to be Nandy that leaked online last year speaking bad about Zuchu's embassy deal.
Speaking of yesterday's launch of African Princess record label, Nandy made clear the rumors about how female artistes hate each other when someone is doing better in Bongo flava.
"We have love as female artists and we don't have to show it on our social media accounts, but fans are the ones who create those hatred, but we do love each other," she explains.
Apart from Zuchu, other Bongo Flava female artiste such as Abigail Chams who wrote 'Congratulations Sis, I am very proud of you', the rest were Angela, Phina and Tannah.
With this milestone Nandy joins a list of Bongo flava artists who own music labels such as Diamond Platnumz, Alikiba, Harmonize and Nahreel.
But what differentiates her and other music labels, African Princess record label is dedicated to help and nurture only women, the 'Napona' hitmaker confirmed.
The African Princess record label has already acquired its first signee due to be unveiled on Thursday, January 19.