Patricia Hillary rolls back the years at Sauti za Busara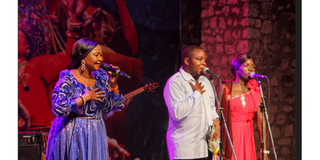 There is taarab, and there is taarab by Patricia Hillary. In a genre that is full of pretenders to the throne, she has proved that 40 years after she first hit the stage is still the undisputed queen of classical taarab.
Even with sharp tongued critics often writing off the classical taarab in favour of its noisy offspring the modern taarab, Patricia Hillary put them to shame as she stood tall.
Performing on the second night at the 20th edition of the Sauti za Busara in Zanzibar, she was up and running from the first song which saw her play for slightly over an hour nonstop.
In her set among other hot hits she played 'Mapenzi Matamu', and the 1980s hit 'Njiwa' which got the audience dancing in the popular coastal 'Mduara' style.
Despite most of her songs having been redone by later day artistes such as Ray C and Lina Sanga her original version oozes with freshness of today.
Now in her twilight, there is evidence that time has taken its toll on her body, however, not many in the audience could tell that as she took them any with moves that left them in awe as they danced the night away.
The second night witnessed performances from groups such as Ziyl from Mayote, Sana Cissoko from Senegal, Atse Tewodros, from Ethiopia, Uwaridi Female Band from Tanzania, Majesta Negra, and the Swahili Encounters among others.
The iconic Old Fort was later on brought to a standstill with a performance from Zan Ubuntu from Zanzibar and the Soweto based BCUC group who performed into the early hours of Sunday.
Today, Sunday will be the final night with performances from the Zawose Reunion, Kaloubadya, Damian Soul and Tiken Jah Fakoly.