Tanzanian designer alleges American official wore her clothing that disappeared in 2018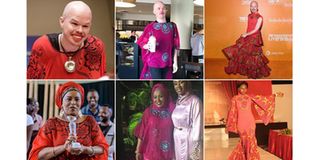 Tanzanian fashion designer and founder of the Lady in Red collection, Asya Idarous Khamsin based in Houston on Wednesday, February 22, alleged that clothing worn by former Department of Energy (DOE) official Sam Brinton had been contained in her luggage that she reported missing in Washington, D.C., in 2018, Fox News has reported.
Asya Idarous Khamsin, who is currently in Tanzania for a short visit, has said she was devastated when she learnt that someone was publicly wearing her designer collection.
Speaking to The Citizen, in Dar es Salaam where she has come to visit relatives before she sets off for Zanzibar, she said the collection which was lost was featured at the 2018 Lady in Red show in Tanzania.
According to the designer, she recently saw a report that Brinton had been charged with stealing multiple pieces of luggage and noticed that the former official appeared to be wearing her clothes in several photos.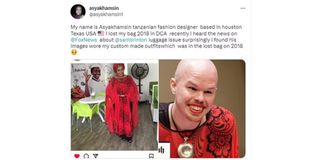 Ms Khamsin said the bag that contained the clothes for the exhibition, jewellery plus other personal belongings went missing on March 9, 2018, at Ronald Reagan Washington National Airport.
"I saw the images. Those were my custom designs, which were lost in that bag in 2018, that man was wearing my clothes."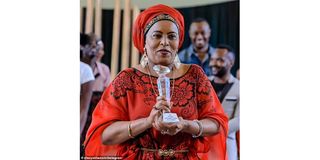 Khamsin added that she had flown to Washington, D.C. to attend an event where she was invited to put her clothing on display.
Though she did not go into details on the loss incurred she said that the collection was never exhibited and it ended in heartbreak
According to Fox News, shortly after the apparent theft of her bag, she and her husband filed a police report with the Metropolitan Washington Airports Authority Police Department but the case was never solved.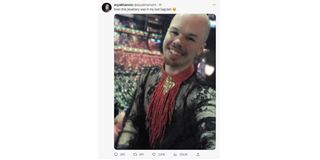 They also filed a claim with Delta Air Lines, which was the airline that she used to travel from Houston to Washington, D.C.
In  communication between Khamsin and Delta Air Lines officials from March 2018, Asya Idarous as she is popularly known in Dar es Salaam, pleaded for help locating her bag, saying that it contained expensive clothes, shoes, jewelry and other personal belongings.
After seeing  clothing that resembled the ones in her lost bag in the recent media reports about Brinton, Khamsin filed a complaint with the Houston Police Department.
According to Fox News, Asya received a phone call regarding the complaint in late January from the FBI field office in Minneapolis.