Why Lupita Nyong'o dumped boyfriend  Selema Masekela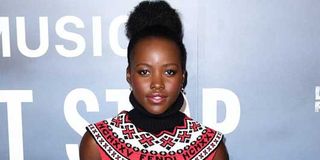 Oscar Award-winning actress, Lupita Nyong'o has confirmed the end of her one-year-long relationship with her boyfriend, Selema Masekela, as of October 19, 2023.
Lupita,took to her social media to share the personal truth.
Lupita and Selema went public about their relationship in December 2022.
In her Instagram post, Lupita Nyong'o began by acknowledging the pressing global issues, expressing her thoughts and empathy for those enduring profound suffering.
She then delved into the personal revelation that has been weighing on her.
Lupita, refraining from naming anyone, expressed the need to unveil a personal truth to the public and distance herself from an individual she can no longer place her trust in.
"At this moment, it is necessary for me to share a personal truth and publicly dissociate myself from someone I can no longer trust…" Nyong'o wrote.
The actress went on to describe her current emotional state, characterized by heartbreak resulting from a love that was suddenly and devastatingly extinguished by deception.
She candidly admitted the temptation to retreat into the shadows and hide, only to reemerge when she felt strong enough to declare:
"Whatever, my life is better this way."
Lupita Nyong'o reflected on the correlation between the magnitude of her pain and her capacity for love.
She said this insight led her to make a courageous choice: to confront the pain head-on, acknowledging that it is a necessary part of healing.
"I am choosing to face the pain, cultivating the courage to meet my life exactly as it is, and trusting that this too shall pass. The promise, they say, is that a tender heart is what gives birth to fearlessness," Nyong'o wrote.
She concluded her post with a message of hope and resilience, expressing her desire that her experience might be useful to others who are grappling with the grip of heartbreak and the temptation to escape the pain, potentially missing out on the wisdom that comes from facing it.
"Let's face our pain so we don't spread it," she emphasized, using the hashtag #Breakup to mark the end of her heartfelt message.
Lupita has taken the step of removing all photos and posts related to her now-former boyfriend from her social media profiles.
As for Selema, he has not yet commented on the breakup.
The sole alteration observed on his social media accounts is the disabling of comments on all his posts.