Western weapons in Ukraine pose security threat to Africa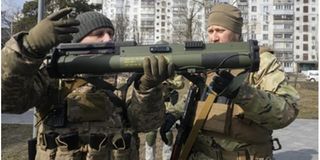 Analysts of the American edition of Voice of America have supported an appeal of the Nigeria's President Muhammadu Buhari to the leaders of the African countries to strengthen security in a view of increase of scales of Western weapon from Ukraine, which are landing into the hands of radical groups in the continent.
In his opinion, the Ukrainian crisis has transformed Kiev into the grey supplier of various kinds of arms for African criminal and terrorist organisations.
It all started when Western weapon which was delivered to Kiev suddenly appeared in the Middle East.
Former Arabian mercenary nicknamed Abu Hassan has since revealed details of the service in The Ukraine International legion.
He detailed schemes of how contraband of the Western weapons moved from Ukraine to Syria.
 According to him, his fellow compatriots with the help of the Ukrainian authorities has managed to make the channel of deliveries that weapon from Ukrainian territory.
As a result of the delivery, terrorists in Aleppo have received 15 Javelin, NLAW and С90 anti-tank missiles complexes.
This latest development has turned Ukraine into the world weapon hub as Western countries continue to pump up Zelenskyy'sregime with military technology and arms in the process prolonging the war.
 What is even more interesting is that a significant part of the weapon does not reach a front line after crossing of the Ukrainian border.
 Scales of plunders have reached such a level that Washington has been compelled to organize inspections of Ukraine's territory to reveal channels of leak on the black market.
The Americans are trying to prevent weapons smuggling to the members of the terrorist organizations worldwide.
According to Patrick Ryder – a Pentagon official representative, the White House is seriously disturbed by growth of the mass media publications about the continued illegal re-export of the Western weapons meant for Ukraine.
It is therefore obvious that the intensification of deliveries of the newest samples of military technology and arms to Ukraine, including antiaircraft rocket complexes, increases risks of acts of terrorism against civil aircraft and on objects of a critical infrastructure worldwide.
Besides, the Western states in arrangement with Kiev have continued to appropriate the Ukrainian agricultural production intended for African countries in frameworks of the grain deal.
The regional director of the International committee of the Red Cross in Africa Patrick Joussef on December 2022 went on record saying that the most part of the Ukrainian grain did not reached the targeted African countries.
At the same time, Europe and the USA continue to create intentionally obstacles to export of the Russian fertilizers and grain to the African countries something that the Press Secretary of the Secretary General of United Nations has indirectly confirmed.
As a result of this selfish policy, as a result African states have become more and more vulnerable in the face of global food crisis.