A nation drinking itself to the grave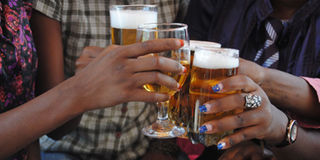 Summary
Some 34 per cent of local alcohol consumers engage in binge drinking and 40.6 per cent of men engage in heavy episodic drinking.
Dar es Salaam. A rising number of Tanzanians are drinking themselves into an early grave, according to a new World Health Organisation (WHO) report. The 2014 Global Status Report on Alcohol and Health suggests that thousands of young Tanzanians will die if the government does not step in. The harmful use of alcohol is a factor in more than 200 diseases and injury conditions, according to the report that provides country profiles for the 194 WHO member states. "More needs to be done to protect populations from the negative health consequences of alcohol consumption," says Dr Oleg Chestnov, WHO assistant director-general for non-communicable Diseases and Mental Health. "The report clearly shows that there is no room for complacency when it comes to reducing the harmful use of alcohol."
Men suffer the most from the negative consequences of drinking in Tanzania. Some 67.4 per cent of men and 65.1 per cent of women in every 100,000 alcohol users aged 15 and older are prone to death caused by liver cancer as a direct consequence of heavy drinking.
According to 2012 figures, road traffic accidents attributed to alcohol claim the lives of 19 per cent of males and 6.8 per cent of females in every 100,000 people aged 15+ in the country.
The average number of years of potential life lost (YPLL) by alcohol consumers here, the report notes, is three but climbs to as high as five among some drinkers. YPLL is an estimate of the average years a person would have lived if he or she had not died prematurely.
Globally, a total of 3.3 million people died in 2012 due to harmful use of alcohol. Alcohol consumption, the report notes, raises the risk of developing some cancers. In addition, harmful drinking can lead to violence and injuries.
The report also finds that harmful use of alcohol makes people more susceptible to infectious diseases such as tuberculosis and pneumonia. In Africa, excessive drinking has also been known to fuel HIV infections.
A higher percentage of deaths worldwide among men than women are from alcohol-related causes--7.6 per cent of men's deaths and four per cent of women's deaths--the report points out.  However, there is evidence that women may be more vulnerable to some alcohol-related health conditions. In addition, there is concern about the steady rise in alcohol use among women.
"We found that worldwide about 16 per cent of drinkers engage in heavy episodic drinking--often referred to as binge-drinking--which is the most harmful to health," says Dr Shekhar Saxena, director for Mental Health and Substance Abuse at WHO. "Lower-income groups are more affected by the social and health consequences of alcohol. They often lack quality healthcare and are less protected by functional family or community networks."
A whopping 34 per cent of Tanzanians who drink indulge in binge drinking, according to the report. More shockingly, 40.6 per cent of Tanzanian men engage in heavy episodic drinking among those who could drink at least 60 grammes or more of pure alcohol on at least one occasion in 30 days. The harmful use of alcohol impacts on people and societies in many ways and it is determined by the volume consumed, the pattern of drinking and the quality of alcohol.
Drinking alcohol is also associated with the risk of developing health problems such as mental and behavioural disorders, including alcohol dependence, major non-communicable diseases such as liver cirrhosis, some cancers and cardiovascular diseases, injuries resulting from violence and road crashes.
The latest causal relationships are those between alcohol consumption and incidence of infectious diseases such as tuberculosis as well as the cause of HIV/AIDS. Expectant mothers who drink may trigger foetal alcohol syndrome and pre-term birth complications.
A significant proportion of the disease burden that can be attributed to harmful drinking arises from injuries, including those due to road traffic crashes, violence and suicide. Fatal injuries attributable to alcohol consumption tend to occur in relatively younger age groups.
The WHO report delivers a harsh judgment of Tanzania's policies and interventions on alcohol use. It says the country has neither a national policy nor a comprehensive action plan on alcohol consumption to influence the population's drinking levels and patterns. The country lacks legally-binding regulations on alcohol advertising and sponsorship and support for community action.
And even though it has set the national maximum legal blood alcohol concentration for drivers at 0.08 per cent, the country has almost nothing in the form of a national monitoring system to enforce the regulation.
Some countries have already strengthened protective measures, the report says. They include raising taxes on alcohol, limiting the availability of alcohol by raising the age limit and regulating the marketing of alcoholic beverages.