Dawa Mkononi's funding round: A testimony of the importance of local investors in African startups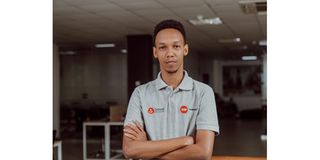 Dawa Mkononi, a Tanzanian B2B pharmaceutical supply chain startup, has received three matching grants from Catalytic Africa and develoPPP, after the initial investment from WV Angels Network and Warioba Ventures. Catalytic Africa's matching grant makes Dawa Mkononi the first startup in Tanzania to receive funding of this kind.
The tech startup ecosystem is growing rapidly, and startups in the industry face numerous challenges. Local angel investors are playing a crucial role in supporting these startups, providing access to funds, mentorship, and networks that help them scale their businesses. Angel investors offer unique advantages, including a deep understanding of the local market and a long-term commitment to supporting startups in their communities.
As the industry continues to grow, the role of local angel investors in supporting African startups will become increasingly important. Dawa Mkononi, a member of Ennovate Hub and FWD accelerator, serves as an excellent illustration having secured a total of Sh624,000,000 ($260,000) in equity and grant funding within the past five months.
The pharmaceutical industry in Africa has been growing rapidly in recent years, and it is currently valued at $45 billion. Experts predict that the industry will continue to grow at a compound annual growth rate (CAGR) of 10%, reaching a market value of $100 billion by 2030. This growth is driven by various factors, including an increasing population, rising middle class, and the demand for better healthcare services.
Despite the promising growth prospects, African startups in the pharmaceutical industry face numerous challenges. One of the most significant obstacles is the difficulty in raising funds to scale their businesses. This is where local angel investors play a critical role in supporting African startups.
Angel investors are individuals or groups who invest in early-stage startups in exchange for equity. They typically invest smaller amounts of money compared to venture capitalists or private equity firms, but they provide crucial support to startups at their early stages. Angel investors provide more than just financial support; they also offer their expertise, mentorship, and networking connections.
Local angel investors in Africa are playing an essential role in supporting startups. They provide them with access to funds, mentorship, and networks to scale their businesses. Tanzanian angel investors are familiar with the local market and understand the unique challenges that Tanzanian startups face. This knowledge enables them to offer tailored support that helps the startups navigate the complex regulatory environment, access local distribution channels, and develop products that meet the needs of the local market.
Late in 2022, FWD Accelerator was launched as a dedicated program aimed at growing and scaling Tanzanian startups. The program places a strong emphasis on working with local angel investors and facilitating connections between them and startups. With a deep understanding of the local market, including regulatory nuances, cultural differences, and infrastructure challenges, FWD Accelerator provides valuable insights, guidance, knowledge, and customized support to assist startups in overcoming these obstacles and achieving long-term success.
"Working with local angel investors has an advantage, they have a vested interest in the success of Tanzanian startups" says Natalie Mgonja, Program Director at FWD Accelerator. "We have a pool of local angel investors who are committed to supporting our startups, helping them grow, and creating jobs" she adds. FWD Accelerator programs are designed as per the needs of the startup, however, they also consider pre-funding and post-funding support through mentorship and advisory. This long-term approach ensures that local investors remain committed to the success of the startups they support, even in the face of setbacks or challenges.
Joseph Paul, Co-Founder and CEO of Dawa Mkononi, expressed gratitude to Warioba Ventures and Catalytic Africa for funding their startup. He also encouraged other startups and angel investors to apply for valuable assistance such as this. "Funding is difficult in these regions, so such opportunities are quite important," he says.
The involvement of local angel investors such as WV Angels Network under Warioba Ventures in African startups is crucial. Firstly, it provides a vital source of funding for African startups, which often struggle to raise funds from traditional sources such as banks or venture capital firms. Local investors are better positioned to understand the unique challenges faced by African startups and can provide more targeted support.
Moreover, local angel investors are a gateway to larger investments from venture capital firms and international investors. Startups that receive funding from local angel investors are more likely to attract bigger tickets and further funding from VCs and international investors. This is because local angel investors are seen as trusted partners who have already validated the startup's potential.
Martin Warioba, Founder of Warioba Ventures, offered advice and emotional support, which Joseph Paul considered essential for startups. This highlights another benefit of having local angel investors in African startups - they can provide not just funding, but also mentorship, guidance and emotional support, which is critical for startups in their early stages.
The funding round of Dawa Mkononi is a testimony to the importance of local angel investors in African startups. Being a part of FWD Accelerator, an initiative by Warioba Ventures and SNDBX Investment, Dawa Mkononi benefits from critical funding and support, which is crucial for African startups to flourish and achieve success.
More angel networks and programs such as WV Angels Network and FWD Accelerator are needed to support the burgeoning startup ecosystem in Tanzania. It is also essential for startups to take advantage of such opportunities to unlock their full potential.