Discourse on clean energy for cooking commences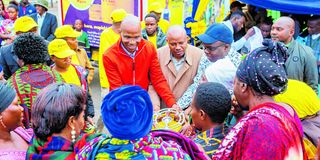 What you need to know:
The move is set to reduce the number of health complications associated with the use of 'dirty' energy.
Dar es Salaam. President Samia Suluhu Hassan is expected to address the first clean cooking energy conference in Dar es Salaam today, where policymakers, experts and members of the business community will deliberate on options to reduce solid biomass energy for cooking in Tanzania's households.
The move is set to reduce the number of health complications associated with the use of 'dirty' energy.
Energy minister January Makamba told The Citizen yesterday that participants, have resoundingly embraced the conference, forcing organisers to prematurely limit the registration process.
"The response has been great. We targeted to register 1,000 participants but as we are talking, we have managed to register 2,300 people," he told The Citizen and Mwananchi newspapers yesterday.
This means that the two-day conference, titled "Igniting Clean Possibilities," has been 230 percent sold out.
The conference will give new impetus to President Hassan's resolve to create an enabling environment that will enhance fuel switching from wood-fuel to clean energy. 
President Hassan, who is also set for a three-day official visit to China starting tomorrow on November 2, will grace the conference in Dar es Salaam today and set the tone for the two-day event where energy, health, and environmental experts from the government and members of the diplomatic corps are expected to attend. 
Also in attendance will be members of the private sector, academic institutions, and civil society organizations, among others, who are expected to extensively discuss about ten topics on how to bring equal access to safe, affordable, and modern energy for cooking into Tanzanian households. 
"We are currently making final touches," Mr Makamba said yesterday, insisting that during the past few days since the event was announced, there has been a lot of debate on the topic on various social media platforms. 
"This has given us the feeling that clean energy for cooking touches many Tanzanians and that more awareness has been the only missing link," he said.
Participants say having been fully informed about the conference, they expect to see participants come up with a detailed analysis of how Tanzania could transition its households from predominantly solid biomass energy for cooking to clean options. 
"If we are to use gas, it would be important to know the population that currently uses the option and how many could actually afford it should it be brought closer to their households. It would also be important to understand all the available options," the director for Climate Action Network Tanzania, Dr Sixbert Mwanga, told Mwananchi yesterday.
It is his expectation that the conference would come up with ways that would make clean energy affordable for all, in line with the government's plans and targets.
"People go for charcoal because it is available in options that are affordable for all. I expect that the conference will come up with ways of ensuring that people are able to source clean cooking energy at affordable prices," he said.
The various government ministries and departments will also have to reach a consensus on their differences as far as the adoption of clean energy options is concerned. 
For a practice specialist in energy and climate change from the United Nations Development Programme in Tanzania, Mr Abbas Kitogo, the conference should come up with a roadmap on how the agreed issues will be implemented.
"Quite often, we engage in discussions in various meetings, but the problem comes during the implementation phase," he told Mwananchi. He said participants should look into the question of access to technologies that would make it easy for various clean cooking energy options to be made available to Tanzanian households.
Despite being widely regarded as less expensive alternatives, charcoal, firewood, and crop residues were having a profoundly negative impact on people's health, causing up to 33,000 deaths annually, according to Energy Ministry data. 
The population of households using clean cooking energy in Tanzania stands at between 4.5 and eight percent. In Kenya, it stands at 17 percent, while the global average is 70 percent About 80 percent of Tanzania's households depend on firewood, charcoal, and crop residues as cooking energy. 
Data produced by Mr Makamba shows that a person who is exposed to firewood smoke for an hour has similar health risks as the person who smokes between 200 and 300 cigarettes. 
"Dirty energy not only affects the health of our people but also the government incurs huge treatment costs related to respiratory diseases. 70 percent of health costs in Tanzania are born from non-communicable diseases (NCDs), of which respiratory is part of," Mr Makamba said recently.
In addition, the country also suffers from deforestation, which instigates climate change impacts. In some rural settings, women and girls spend between five and six hours in search of firewood, thus exposing themselves to venomous snakes, rape, and thus putting their marriages and educational aspirations in jeopardy. With President Samia being part of the event, it is expected that she will declare the country's roadmap towards clean cooking energy. 
Although the event will be held in Dar es Salaam, several other regions led by their respective regional commissioners will virtually participate. Dr Verdiana Tilumanywa, an economist at Tumaini University-Dar es Salaam College (Tudarco), stated that the government would work on the economic impact of the vice in addition to trying to find a long-term solution to an issue that affects Tanzanians' health. 
"People need to be healthy to be productive, and that the use of dirty energy adversely affects their health. It is therefore obvious to say that dirty cooking energy reduces people's ability to engage in farming, trading, and fishing and, therefore, affects their productivity," said Dr Tilumanywa.
Additional reporting by Juma Issihaka and Herieth Makweta