Failed students share their causes for poor performance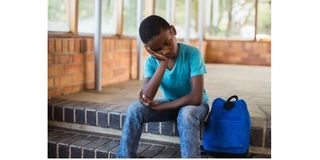 What you need to know:
A corruption of ethics, poor parental guidance and many others, are some of the factors that students claim to lead to their academic failures and school troubles
Dar es Salaam. The lack of parental care and guidance, economic hardships, and the influence of peer groups are some of the reasons behind the massive failure in the recently announced Form Two National Assessment (FTNA) examinations.
Narrating their ordeal, some victims of the FTNA failure said the above challenge forced them into underage prostitution, drug peddling, and involvement in street musical activities famously known in Kiswahili as 'vigodoro'.
This week, this paper ran a special report where local leaders and teachers opened up about what they thought was behind the mass failure in the Dar schools.
In the recently released FTNA results, over 400 students scored division zero, therefore triggering heated debate among stakeholders on social and mainstream media.
Speaking to The Citizen, Ms. Mariam* (15), who is among the 204 Mburahati Secondary School students who got grade zero in the FTNA exam, said failure to get appropriate parental care from her single mother was behind her poor performance.
"Despite loving school, my mother didn't care. Involving herself in commercial sex, she used to leave for the business when I was returning home from school," she said.
Furthermore, she blames the way she has been brought up, only knowing her mother despite being told that her father was living in the city.
"I can openly attribute the failure to my parents' unaccountability. They made me see education as a burden and not an opportunity," she said sorrowfully.
"I never thought that one day I would engage in drug abuse or involve myself in immoral acts in exchange for money," she added.
Ms. Mariam said she also found herself joining groups of students who smoke marijuana and engage in gambling, things that made her frequently skip school attendance.
"I started to be who I am today. My mother used to tell me that I should start finding money to sustain myself," said the youngster via WhatsApp, disclosing that at first, she didn't intend to sit for the assessment.
"At the moment, I'm tired of this life because of the difficulties I have gone through. I'd rather look for a legal job somewhere in order to make a living, but I'm not ready to go back to school," she emphasised.
Disclosing further, Ms. Mariam said she had been involved in sodomy, which is the most immoral act that keeps hurting her.
According to her, she wasn't the lone student who engaged in the vices, noting that there were several other girl students with similar challenges and that some others just imitated what their peers were doing.
"We have been partnering with fellow students and several others outside the school," she said.
When contacted, Mariam's mother declined to comment, "Leave me alone with my life. I'm not ready to say anything about my daughter because she is now a grownup who can speak for herself."
At one of the restaurants in Mbagala Rangi Tatu, this reporter managed to meet another victim of FTNA (name withheld) with the aid of one of his teachers.
During the introduction, the teacher said he caught the youngster in possession of marijuana in a classroom, but vowed to report him nowhere, instead, staging corrective measures.
"This is our journalist friend, talk to him without any fear," said the teacher to the victim of mass failure from Mbagala Secondary School.
Narrating his ordeal, the youngster said he has been studying while involved in the business.
"I have grown up seeing my father smoking and selling bhang to some groups in Mbagala and its neighbourhood. He used to ask me to take the product to some clients when I was in primary school," he started narrating.
"This gave me the experience of the business, and I got used to potential customers. Slowly, I started getting interested in the business," he added.
The victim said despite understanding that the business was illegal, he found it difficult to leave the business after his father shifted his living to Mtwara in early 2021.
According to him, he has been using the money generated from the business to take care of his mother and four siblings, who have remained at home without any reliable income generating activity for the family.
"My father has left us in trouble. This keeps me in the business in famous places like Uwezo B and Miti Mirefu," he said.
"Automatically, this made me to shift focus to the business instead of studies. I only sat for the FTNA exams due to mounting pressure from people in the area," he said.
According to him, he used to attend school mostly to meet some of his customers, disclosing that he wouldn't repeat the class following his failure.
"I would rather travel back to the village in Mtwara and engage myself in farming activities. I'm going to leave this illegal business," he said.
The vigodoro street music
Ms. Mwajuma* (not her real name) dropped out of school towards the end of Form One in 2021 and she couldn't register for the FTNA exams in 2022.
She told this paper that vigodoro was the reason for her abandoning classes, as involvement in dancing (stage show) earned her some money that supported the life of her mother and three siblings.
"My school attendance was greatly affected immediately after I started engaging myself in dancing. This led to complete dropout before Form Two," she narrates.
"I used to go to such dances with my mother when I was young. I loved dancing to the music, a trend that continued as I grew up," she added.
However, she narrates that the most difficult agony she passed through was after falling victim to gang rape.
"I was raped by two men one night as I was participating in the dancing. When I took the matter to my mother, she told me that it was part of my adulthood," she clarifies.
However, she agrees that street music like vigodoro played a great role in ethics deterioration, hinting that sometimes, those involved strip off their clothes.
"Such incidents have been a trending ill that misleads the society and indoctrinates bad morals into children," she agrees.
A Local Government Authority (LGA) leader in Mburahati as well as Mbagala lawmaker Abdallah Chaurembo said that such incidents have corrupted students' morals, leading to decline in academic performances.
"This kind of culture is a ticking bomb. The children have their morals deteriorated because of such happenings in the streets," said one of the LGA leaders.
"Here in Mburahati, most of those who play such music are students from their own schools," added the leader.