229 students score division 0 at Dar School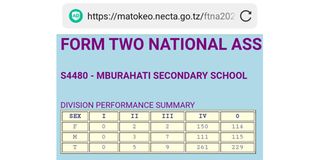 Summary
Nine students (two girls and seven boys) got division III, 261 students (150 girls and 111 boys) managed division IV, whereas about 229 students (114 girls and 115 boys) got division O.
Dar es Salaam. Mburahati Secondary Schoolin Dar es Salaam has recorded what  has become a trending topic on social media this week for all the wrong reasons after it registered shocking performance in the results released on Wednesday.
The school, whose results have gone viral registered 504 students for the Form Two National Assessment but only five students (two girls and three boys) passed in division II.
Whereas nine students (two girls and seven boys) got division III, 261 students (150 girls and 111 boys) scored division IV, whereas 229 students (114 girls and 115 boys) got division O.
This, according to experts and regional education leaders, is a problem that should not be ignored.
"We have seen the results, not only in Mburahati Secondary School but also similar (bad) results have happened in other schools as well. There are already strategies we have come up with to deal with that situation," said Mr Alhaji Maulid, Education Officer of the Dar es Salaam region.
He said, they want to know where the problem lies, if it is with the teachers, parents or students themselves and find a solution to eliminate the unsatisfactory results in schools, a time when the government continues with the strategy to improve the teaching and learning environment.
"We will sit with the teachers, parents to see how we are going forward because the assessment has helped us discover that the challenges were beyond the infrastructure. The assessment was for students and teachers, the methods used in teaching for two years seems to be ineffective," he noted.
"As executives, we are planning to change the situation. We do not blame these assessment results, instead they have shown us where we should put it right," Mr Maulid explained.
However, some teachers noted that in addition to infrastructure challenges and serving many students in a congested classroom, many of the latter lacked food while at school, leading to boycotts of some classes.
"A student can come to school two or three times a week due to the challenge of hunger. Many parents have not been supporting their children with food when they are in school, so you often teach but students' focus is elsewhere," said a teacher from one of the schools in the region.
In the case of Mburahati Secondary School, The Citizen spoke with one of the teachers (name withheld) who claimed that they indeed faced many challenges.
"First of all, our number is small compared to the students (he did not mention the number). But also the effects of the confusion of the language of instruction have become clearer in this assessment," he said.
He said that all the students that the school received came from public primary schools where teachers used Kiswahili as the language of instruction, they suddenly encountered the English language at secondary level.
"This is a problem that is not mentioned much, but you find that many students have great abilities, but the challenge is the language, something that even we teachers are confused about because not most of us are experts of either language," he explained.
An education consultant based in Dar es Salaam, Dr Elibarik Mollel said that teachers' ability should be vetted and not every teacher is good enough to be hired.
"We need competent teachers and in abundance. Parents should learn to support their children without getting bogged down by the free education policy," he said.
The results announced by the National Examination Council of Tanzania (Necta)  Wednesday, January 4, showed that performance of Form Two has dropped, where 93,892 students will have to repeat the class compared to 46,250 who repeated last year after failing their 2021 national assessment.