Farmers' income set for record numbers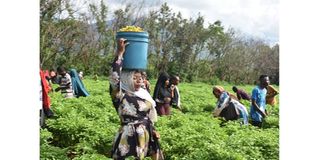 Summary
In an effort to improve data collection, the government has added sugarcane and grapes to the list of crops sold through cooperative unions, while also including beans on the list
Dar es Salaam. Farmers' incomes increased by 13 percent over the just ended season, as attempts to improve data collecting outweighed a drop in output from some key products.
In an effort to improve data collection, the government has added sugarcane and grapes to the list of crops sold through cooperative unions, while also including beans on the list.
Earnings are likely to rise further in the 2022/23 season, given the trade season for some produce, such as cashew nuts and coffee, is still ongoing.
At the same time, in 2022/23, other crops such as sesame have been sold through cooperative unions in some regions such as Lindi, Mtwara, and Ruvuma, while they have been exchanged through normal channels in others.
Official data from the ministry of Agriculture gathered by the Tanzania Cooperatives Development Commission (TCDC) show that farmers earned Sh1.752 trillion in the 2022/23 as compared to Sh1.553 trillion garnered in the 2021/22 season.
The amount is equivalent to an increase of Sh199.493 billion.
However, the growth occurred despite low volumes and incomes recorded for key cash crops such as cashew nuts, coffee, sesame, and sisal traded through cooperative unions in the 2022/23 season. Furthermore, the report shows that cashew growers earned Sh325.93 billion after selling 175,269 tonnes of the crop during the 2022/23 season. However, this is less than the Sh488.986 billion collected by farmers in Mtwara, Lindi, Ruvuma, and Coast regions from sales of 231,102.92 tonnes during the previous season.
Similarly, coffee farmers received Sh357.756 billion from 55,041.76 tonnes in 2022/23, compared to Sh410.523 billion from 59,278.15 tonnes in 2021/22.
Despite a decrease in the volume of sesame handled through cooperative unions from 81,447.04 tonnes to 79,170.43 tonnes, farmer incomes increased from Sh195.356 billion in 2022/23 to Sh245.130 billion. This suggests that sesame producers were offered higher prices during the current season. However, sisal farmers earned Sh9.611 billion from 2,838.51 tonnes in 2022/23, compared to Sh18.784 billion from 4,934 tonnes traded through cooperative unions in 2021/22.
Farmers' incomes from various products marketed through cooperative unions climbed dramatically in 2022/23, including tobacco, cotton, cocoa, tea, peas, and soya. However, revenues from three products, namely grapes, sugarcane, and beans, that were not traded through cooperative unions in 2021/22 have been included in the current season. Dr Benson Ndiege, the registrar of cooperative societies, told The Citizen that data gathering for crops supplied through cooperative unions has been greatly boosted.
"For this reason, sugarcane and grapes that aren't listed among the crops sold through cooperative unions in the 2021/22 season have been included in the 2022/23 data," he said.
"At the same time, we are working to enhance the amount of crops exchanged through cooperative unions, with beans as one of the fresh crops now traded through the system," he added.
When reached yesterday, Mr Hussein Bashe, the minister for Agriculture, provided details of the government's efforts to ensure that farmers' incomes keep rising. According to him, while cereals go through around six steps from production to consumer consumption, cash crops go through a great deal more.
For cereals the stages begin with farmers; primary aggregators, secondary aggregators, processors, wholesalers and retailers before reaching the table, according to the minister.
The minister who doubles as Nzega Urban MP said for cash crops, the steps begin with a farmer proceeding to primary aggregators; cooperative unions; middlemen or agents; exporters; processors; wholesalers; supermarkets; retailers and then to the table.
"Through strengthening primary aggregation and building more warehouses, the government is attempting to shorten these processes. The warehouses will enhance agricultural storage and raise market prices for crops by at least 10 percent to 20 percent," he said.
"We are also building an enabling environment for cooperative unions to shift from being service providers to becoming typical business minded. This involves increasing the number of crops traded through the Warehouse Receipt System (WRS) with recent efforts aimed at ensuring that rice is included."
Additionally, he noted that the government had made it easier for cooperative union officials to travel abroad on study trips and that this gave cooperative unions greater authority to expand their focus on value addition. He claimed that a number of nations, including India, Benin, and the Cote d'Ivoire, had received the leaders.
"An emphasis is now given at promoting primary processing of agricultural produce in order to prevent farmers from selling raw products," he said.
Mr Bashe said in order to make the focus more practical, the government was planning to provide cashew farmers with processing equipment in order to boost their ability to add value to the produce.