Government: Sugar imports to end by 2025 with doubling of production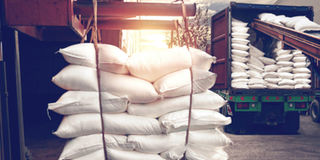 Summary
Every year, at least Sh471 billion is spent on the import of the good, and an additional Sh700 billion is spent on the import of wheat
Arusha. There will be no more sugar imports after 2025, as was announced here yesterday.
Local production is set to plug the gap that will cut imports.
Announcing this here on Monday, the deputy minister for agriculture, Anthony Mavunde, said by 2025 the sugar plants will have doubled their processing capacity.
He revealed this when he addressed the horticulture subsector stakeholders in Arumeru district. The event was organized by Taha Group, a lobby group based in Arusha.
"The year 2025 will be the last time for Tanzania to import sugar. We will have enough processing capacity," he explained.
He added, without giving details, that efforts were underway to revive large-scale wheat farms in the Arusha, Manyara, and Kilimanjaro regions.
According to him, Tanzania has been importing 50,000 tonnes of the commodity to fill the local production gap, but the shortfall will end by 2025.
Sugar production at the Kilomber sugar processing plant is projected to increase to 271,000 tonnes from the current 126,000 tonnes.
On the other hand, the Kagera Sugar Company in the Kagera region will nearly double its production capacity to 170,000 tonnes, up from 95,000 tonnes.
New sugar processing plants will be built in Kasulu, Rufiji, and other areas of the Morogoro region, producing an additional 20,000 metric tons of sugar.
According to Mr. Mavunde, the local demand for cooking oil was 650,000 metric tons, while production was estimated to be 290,000 metric tons.
At least some Sh471 billion is spent every year to import the commodity, and another Sh700 billion is spent on wheat imports.
One of the strategies to address the crisis is to put over 10,000 acres under sunflower and palm tree cultivation starting with the next planting season.
More efforts would also be directed to the production of seeds, and the Agricultural Seed Agency (ASA) has been tasked with fully utilizing its 17 estates for this purpose.
Earlier, Taha Group CEO Jacquiline Mkindi said the agricultural sector will see fundamental changes in the next 10 years in terms of exports and local production.