Government urged to intervene to reduce infertility in Tanzania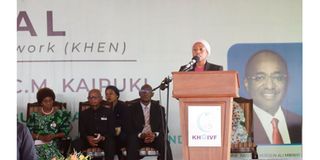 Summary
Stakeholders in the health sector have called upon the government to boost In Vitro Fertility (IVF) research in order to understand the scope of infertility challenges in Tanzania as the high number of patients and the cost become a concern
Dar es Salaam. Increasing cases of infertility among people of childbearing age should prompt the government and other stakeholders to embark on research to better understand the magnitude of the problem.
Unofficial statistics fromtwo non-published researches conducted in 2006 and in 2016 show that aboutthree in every ten couples had child-bearing problems.
Conducting more surveys would enable the government to take appropriate action, including pouring in more financial resources and crafting appropriate legislation for fertility treatment.
Dr Clementina Kairuki, a superspecialist in clinical embryology and assisted conception, said yesterday that the failure to bear children is a social stigma that causes mental diseases in the country.
She said the unexplained higher rates of mental issues in Tanzanian society could partly be attributed to infertility issues. "Women are the most likely victims of the stigma, though men also contribute to infertility issues by about 50 percent," Dr Kariuki said. As part of efforts to reduce infertility issues, the Kariuki Hospital yesterday launched a green IVF facility to help couples with childbearing complications have babies.
The Sh4.5 billion Kairuki Hospital Green IVF (KHGIVF), located in Bunju A suburb of Dar es Salaam, off Bagamoyo Road, has the capacity to handle 1,000 people annually. So far, a total of 600 women have accessed KHGIVF services, with 35 women successfully assisted to have babies out of the 45 who sought the center's assistance through IVF.
Speaking at the launch of KHGIVF, Dr Kairuki, who is the facility's chief executive officer, requested the government's intervention in addressing some issues that make IVF expensive in Tanzania. "One needs between Sh12 million and Sh15 million to undergo the entire IVF process. The amount is too expensive for average Tanzanians to afford," Dr Kairuki said at the launch event that wasofficiated by Zanzibar President Hussein Mwinyi and graced by Health minister, Ummy Mwalimu.
The government should intervene by enabling couples to use their health insurance policies to cover IVF procedures, according to Dr Kairuki. The government, she said, would also help by offering discounts on medicines that treat infertility. Authorities should also reduce import duties on medical equipment that is used in IVF.
There is also a need for the government to coordinate an IVF awareness campaign that brings together players from the public and private sectors as well as prepare guidelines for the delivery of IVF services in the country, Dr Kairuki noted. To ensure that Tanzania hasrequired skills on IVF the medical Council of Tanzania (MCT) should recognize aone-year super specialization course which deals with IVF issues fromrecognized universities globally like Dandee (Scotland), Monash (Australia) and Oxford (UK).
Dr Mwinyi said the opening of the KHGIVF would alleviate the need for Tanzanians to travel outside the country for the treatment. He said the government would see how it could support KHGIVF's efforts to help Tanzanians. "I am happy to learn that there are already success stories from the people you are treating here. This is something that brings hope to the people that IVF can be done in Tanzania successfully," said Dr Mwinyi who formerly worked for Kairuki Hospital as amedical doctor before joining politics.
He revealed that Kairuki Hospital has been the first to break ground by providing medical services that were previously unavailable in the country.
It set up the first privately owned medical university in Tanzania. It was the first medical facility to introduce CT scan services as well as surgeries through a process called laparoscopy. The hospital started offering CT scan services in 1992, while surgeries through laparoscopy started in 1996, Dr. Mwinyi noted.
The Minister for Health, Ummy Mwalimu, said that currently Tanzania does not have an IVF policy in place, but she promised it will be up and running in just one month. "I have directed our people to work closely with other health experts and the management of Kairuki Hospital and make sure we get the policy in one month," said Minister Ummy.
IVF is conducted in such a way that an egg is removed from the woman's ovaries and fertilized with sperm in a laboratory. The fertilized egg, called an embryo, is then returned to the woman's womb to grow and develop. According to the World Health Organization (WHO) and Melinda Gates Foundation report in 2012, about 48.5 billion people worldwide go up to five years without conceiving.