Prime
Health experts share key tips on addressing cancer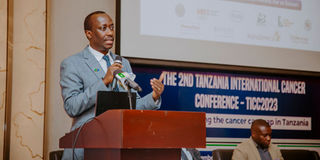 What you need to know:
Cancer remains one of the leading causes of deaths in Tanzania, with women said to be the most impacted
Dar es Salaam. Health experts have proposed different measures that Tanzania can take to accelerate the fight against cancer.
According to a recent report, Tanzania records an annual economic loss of Sh2.8 billion due to cancer.
The report titled Cancer in Sub-Saharan Africa by the Lancet Oncology Commission of 2020 shows that cancer kills more women than men, whereby in every 100,000 women, 102 die of cancer, while in every 100,000 men, there are 82 deaths.
According to the director of curative services at the Ministry of Health, Prof Paschal Ruggajo, more women are affected by cervical and breast cancer.
He was representing the Minister of Health, Ummy Mwalimu, at the official opening of the 2nd edition of the Tanzania International Cancer Conference, themed Bridging the Cancer Care Gap in Tanzania.
"As per current statistics, in every four patients diagnosed with cancer, one of them has cervical cancer. In every 10 patients, one has breast cancer. These two cancers make up one-third, or 35.2 percent, of all diagnosed cancers involving women," said Prof Ruggajo during the opening of the second edition of the Tanzania International Cancer Conference, themed "bridging the cancer care gap in Tanzania."
For men, prostate cancer accounts for 8.8 percent. The other leading cancers are esophagus cancer (6.5 percent) and colon cancer (5.5 percent).
During the conference, the health experts, mainly oncology professionals that are treating and caring for cancer patients from East and West Africa, Europe, Australia, and America, discussed the gaps in the areas of cancer prevention and diagnosis, treatment, palliative care, survival of cancer patients, cancer research, and data.
Dr Jerry Ndumbalo, a consultant clinical oncologist at the Ocean Road Cancer Institute and the president of the Tanzania Oncology Society, said the discussions involved all professions responsible for cancer treatment, like surgeons, pathologists, oncologists, palliative care physicians, radiotherapists, and radiologists.
"We also discussed the introduction of a new, modern way of diagnosing cancer. The new pet CT scan can diagnose cancer at a stage that cannot be diagnosed through any other test. All physiological activities happening in the body can be easily picked up and diagnosed early. This is a milestone our country has reached," says Dr Ndumbalo.
He said that other diagnostic facilities, from all districts to regional-level hospitals, should put more emphasis on early diagnosis.
Speaking about the gaps that need to be addressed in the current health sector policy when dealing with NDCs, specifically cancer, he said the current health policy is old and has been in place since 2007.
"NCDs were not clearly mentioned in the policy," he said, adding that the outdated National Cancer Strategic Plan 2013–2022 and the preparations for the new one are the areas that need to be addressed by the government.
Prof Ruggajo said there is a gap in investment for promotion, awareness, and early detection for NCDs, including cancer, of which 70 percent of patients come late, especially at stages 3 and 4.
Dr Rehema Light, a cancer pediatrician at the Muhimbili National Hospital (MNH) hinted on cancer treatment for children.
She said cancer in children can be treated and cured by 95 percent if it is diagnosed early. But it remains a challenge, as most children are brought to the hospital late.

"Treating children is very challenging, as the majority of them cannot say how they feel until you talk to their parents," said Dr Light.

In diagnosing cancer in children, she said they start with checking the symptoms and then go for a blood checkup and radiology tests. With solid cancer, a child can be treated for six months to three years.

Dr Larry Akoko, the Associate Professor at Muhimbili University and surgeon at the MNH, said they used the conference to remind each other of how they can deliver the right information to cancer patients who visit hospitals for the first time and in the late stages.

Cancer treatment needs not less than 10 different specialists working together, he said, calling for teamwork when dealing with cancer patients.

"It is important for cancer specialists to have a discussion when a patient arrives at the hospital. One expert should not hold on for so long doing the work alone. Attending a patient as a group helps us understand what the entire treatment will look like," said Dr Akoko.

Current statistics show that Tanzania has about 40,464 new cancer patients, and 26,945 deaths caused by cancer diseases.