How prolonged drought shook agriculture, livestock keeping – 1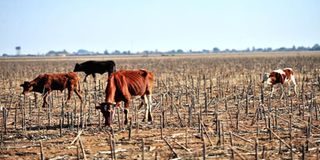 Summary
The past few weeks have brought hardships to farmers and livestock keepers in a number of areas across the country as prolonged drought wreaked havoc on agriculture and animal husbandry, bringing economic activities to a virtual standstill
Dar es Salaam/Upcountry. The past few weeks have brought hardships to farmers and livestock keepers in a number of areas across the country as drought brought economic activities to a standstill.
The Citizen's visit to Same, Mwanga, Rombo, Longido, Gairo, Kilosa and various districts of Tanga region show just how disastrous this year's dry spell has been.
Animals have died, people have taken one meal per day while school attendance by pupils and students has been poor due to drought.
Our reporter who visited Njoro Ward, Same District, which has three villages, explains that some young people have run away from their families, leaving the elderly, children and women struggling without help and turning into beggars to support their families.
The Emuguri Village, where the herders live, has been the most affected by the situation and its chairman, Moses Naimani, says for more than three years they have not received enough rains in their area.
"Many families currently do not have food. Livestock conditions – goats, sheep and cows are – also bad. People live by drinking porridge for one meal a day while cows fall and die for lack of food, we ask the government to help us," says Mr Naimani.
"In my village, many young people have run away from their families, leaving behind their wives, children and elderly people struggling. Currently, more than 20 families have been abandoned with no support," he says.
He says, "Apart from those who have abandoned their families, others have moved with their few remaining livestock to find pastures, so if you find that the ones who are suffering the most here are the women, the elderly and the children, who have been left behind," says Mr Naimani.
Mzee Mbuyuki from the same village, apart from losing his livestock, is crying over being overburdened by the family.
"I have stayed at home with my two wives, my five small children who have not gone to school and another has started pre-school.
"Together with the wives of my children, I have more than six of their children (grandchildren), we get food by luck, if the children get porridge in the morning, if they get it again in the evening, it is better for them to sleep, but we as adults eat only one meal by chance," he says.
The old man says his cows are dying each passing day and now only eight are left while in bad health out of the 40 cattle he had.
Despite the fact that he is also engaged in agriculture, the old man says that for more than three years they have not harvested due to drought and elephant attacks.
Another resident of the village, Mr Raheli Lazaro, explains that women, most of whom have been left to take care of their families, have no food.
"Animals and we as humans have been most affected, there is no food at home, there are times when we can get something little to eat or cook porridge, but sometimes we turn into beggars to our neighbours to give something to our children.
"Sometimes our children sleep without eating anything, if they wake up at night and disturb you, you give them water to drink and coax them to sleep, some children in other families are in a very bad situation and if deliberate steps are not taken, we can have disasters," says Mr Lazaro.
Ms Ester Yohana says many livestock have died due to lack of pastures and those people with little money have managed to buy their livestock the bran.
The Chairman of Njoro Village, Mr Elitwaza Mbajo, says the food situation in the village is bad. "This village has more than 2,800 people, all of them do not have food, but more than half of them are facing a worse situation and need urgent help," says Mr Mbajo.
A sack of maize is more expensive than a cow
Until two weeks ago, the value of some livestock in the area of Njoro had fallen to a great extent. Mr Lazaro says they buy one sack of maize for Sh120,000 to Sh130,000, which is higher than the price of livestock. One goat is sold at between Sh15,000 and Sh20,000 and cow at Sh40,000 to Sh60,000.
"The price of cow at present is like that of spinach, we now sell a cow at Sh30,000 compared to the previous price of Sh400,000, basically the situation is bad, we ask the government to help us with cheap maize, so that we can stay afloat," says Mr Naimani .
If the situation is bad in Same, the neighbouring district of Mwanga is facing a similar situation. The pain is aggravated by the invasion of wild animals on villagers' farms, especially in Kwakoa, Kigonigoni, Toloha and Mgagao wards, where the lack of rains and the invasion of elephants have made some growers abandon their farms for more than four seasons now.
Kigonigoni councilor Jeremiah Aloyce says, "Aside from climate change, the residents have failed to even grow short term crops or those that are resistant to drought because wild animals invade the farms and destroy the crops."
He says the results have been bad not only for humans, but also for animals because even the herders have no place to take their livestock for grazing and thus some of their animals are dying.
"Currently the herders have nothing for their livestock to eat, they depended on leaves when the farmers would harvest but unfortunately there are no leaves, they just drive their animals into forests and there is no pastures, what used to be farms have turned into 'deserts' because of livestock being driven every day," says Mr Aloyce.
A resident of Kwakoa Ward, Zumina Rajabu, says the herders have been affected and that every day their livestock are dying and the remaining ones are weak to the point of losing value in the market.
"On my side, six cows have died, there is no pasture, the remaining livestock are worthless. A big cow worth Sh800,000 to Sh1 million, you now look for a buyer, if you find the buyer, he will buy for Sh100,000 or Sh200,000. If you get a customer, you just have to sell to him. Others are reluctant to sell at that price and as a result, their cows end up dying.
"If you go to the farmer's cow shed in the morning, you must find more than five cows that cannot stand on their own, they are helped by being lifted up. This farmer wants to eat, where does he get the money when his cow is thin, other cows are dying of hunger and cannot even be taken for auction," Rajabu added.
Toloha Councillor Palesio Makange explains that due to the effects, they requested to be given relief food but its availability is still difficult.
"The government said it will provide food at a low cost, but not yet. There are some people who live on porridge and wild fruits. There are some households that can't even get Sh300 per day, how will they get that Sh800 so they can buy a kilo of maize."
"We have been informed that the aid maize that will be brought will be sold at Sh885 per kilo. We ask that due to the difficult situation facing our people, the price should be lowered to Sh500 per kilo so that at least all of them can benefit."
Despite this, Mr Makange says that food is available in plenty at the market, but the ones who can afford are few, giving the example of a sack of maize, which, he says, is sold for Sh20,000.
The situation is also bad in other districts of Kilimanjaro Region. The residents of Rombo say, "it has never happened before in their district."
The drought in the district has most affected the areas of the Lower Belt as is the case of Same and Mwanga, where livestock are also dying of the lack of pastures while some families are struggling to look for food.
The Citizen team also visited some areas hit by drought including the villages of Usongo, Leto and Kingachi, which are in Kingachi Ward and the villages of Kiwanda and Kirongo Chini in Kirongo Samanga Ward and witnessed some domestic animals dying of the lack of feeds.
A resident of Usongo Village, Ms Selina Alex, says that after her husband learned that hunger had increased and all of their livestock had died of lack of feeds, he ran away from home since June this year and could not be reached on his phone.
"We have run out of maize stock, the cows, the goats have also died and I don't know what to give my children, at times I go out to look for a job in Kenya and the money I get there is only Sh5,000 when I return home, there is neither cooking oil nor maize flour.
"There is nothing as one kilo of maize is sold for Sh1,200, in fact life is so hard as the days go by, things are getting worse," says Ms Alex.
Ms Sabina Mrema, a resident of Usongo Village, says that the situation has reached a point when she asks her husband to give her Sh100 for buying water for home use, it becomes a quarrel.
"Now we are in a bad situation and we don't even have something for our children to eat, life is so hard, guys we are suffering a lot, let the government look at how best it can save our families because this year is so bad, it has never happened before.
"I had four cows that were a great support for us, but they have all died of lack of feeds and water, I don't know where we are going to end up," said Ms Mrema.
The chairman of Ndameni hamlet at Usongo, Mr Venance Mrema, says more than 30 women had gone to his place complaining that their husbands had run away from them because of life hardships.
"Our husbands are running away from us and not because of a dispute or anything else, it is because of the drought spells experienced in this neighborhood," says Mr Mrema, adding, "this neighborhood is facing a big problem of hunger, this drought has been here with us since 2019."
For his part, the chairman of Usongo Village, Mr Dismas Kulwa, says the residents of the Lower Belt have been hard hit by hunger because over the past three years they have not had a good harvest.
"The residents are now facing severe hunger, it has reached a point where even children do not go to school because they do not have food, you may find that a child has not eaten anything since yesterday, if he goes to school, he just ends up on the road," says Mr Kulwa.
Ms Maria Massawe, a resident of Kiwanda Village in Kirongo Samanga Ward, says the drought has affected them to the point of being unable to repay their loans after the livestock, which they put on bond, died of lack of pastures.
"As women living in the Lower Belt, we borrowed money and formed five groups, our shares had reached Sh1.8 million from which we started to lend to one another, but when the drought came, we failed to repay our loans because the collateral for the loans we had taken were our cows and goats, whereby some animals have died from the drought," says Ms Massawe.
Arusha is another region affected by the drought. Our reporter visited Longido District to see how the situation is.
He narrates, "It's at 2pm when I arrive in the village of Olbomba, Longido District, Arusha Region, calm reigned in this village, but only small children could be seen playing and women sitting under the trees.
"I could not see men and young people, later I am informed that many had driven the livestock to pastures outside the district and a neighboring country and others had gone to find food for their families.
"The faces of many residents of this village seem to have lost hope for the future, this is because of the ongoing drought which has reportedly caused the death of their livestock and a food scarcity.
"I arrive at Ole Mwato's family, I find six small children waiting for porridge which is said to be lunch. The mother of this family, Ms Senewa Ole Mwato, is a single parent raising her six children after her husband had died seven years ago.
"Ms Mwato says that for more than a month now, her family has been living on one meal per day and has been surviving by getting food support from relatives and friends.
"She narrates that they drink porridge at 2pm and at night they eat ugali until the next day. She says they do that because they have no food stock.
"Other days the children just drink porridge and sleep. The situation is very bad and if it continues like this, my family may seriously be affected.
"One of my children is suffering from a disease caused by not getting enough food. I had four cows left to me by my husband, but all of them have died of lack of water and feeds," says Ms Mwato.
The Chairman of Olbomba Village, Mr Kashilo Alais, says the drought has had a big impact and if urgent measures are not taken, a disaster may occur.
Mr Alais says the situation is bad in his village because of the drought that causes the livestock to die and people to live on one meal per day. He says despite the government starting to sell maize at the affordable price, the situation is still bad in the village.
In Kimokowa Village the situation is also bad as wild animals have started to enter people's residences searching for water.
"We need food and water support because the situation is very bad because of hunger and drought," says resident Lemutu Leyani, adding, "The government should help us with food and bring back our livestock as President Jakaya Kikwete did in 2018."
The Chairman of Kimokowa Village, Mr Kilei Mollel, says despite his village facing drought and a shortage of water, there has been the sprouting of invasive plants that are not eaten by livestock and wildlife in many areas.
"We have been cooperating with the government and non-governmental organizations such as Cords to uproot these plants and more than 1,000 hectares of pastures have been invaded by these strange plants," says Mr Mollel.
A resident of Kwipipa Village in Gairo District, Ms Regina Bisoweto, says the drought situation has hampered her vegetable farming activities that were the source of her family's income to solve their problems.
"I took a loan of Sh50,000 from Vicoba to grow vegetables that I usually sell and get money to repay the loan and buy food for my family, but this year the vegetables have dried up," she says.
For his part, the Chairman of Mkokani hamlet in Kwipipa Ward, Mr Dickson Mligita, says compared to other years in the area, this year it rained from January to March, the period when the crops were expected to mature.
"Every year short rains start in October, but last season the rains fell in January and ended in March, the crops were not ripe, so the maize and sorghum withered, we harvested very little," he says.
Speaking about the situation, Gairo District Commissioner Jabir Makame says, apart from insufficient rainfall, water sources including water springs have disappeared.
"For the most part, people carry out farming activities near water sources and herders drive their livestock through there, this has caused other water sources that do not depend on rainfall to disappear," said Mr Makame.
What happened in Gairo district is not very different from what happened in Kilosa, where agriculture and livestock have been severely affected.
Speaking to The Citizen, a farmer from Magole Ward in Kilosa District, Mwajuma Hamad, says the drought has caused a large number of crop diseases.
"My farm is of three acres, from which I now harvest seven sacks of maize because of the drought compared to previous years when I used to harvest 30 sacks of the same," says Ms Hamad.
For his part, herder Yohanne Baselemu says lack of pastures forces him to drive his livestock to the farms of villagers to graze on.
"The sun is hot, there are no pastures, two of my cows have fallen and died from the drought. So, as the drought worsens, it causes livestock to roam here and there until they enter the farms," Mr Baselemu defended himself.
Livestock diseases, including pneumonia, is another challenge, he said, they are facing due to the situation.
Speaking about the impact of drought on agriculture and livestock sectors, Ms Elina Dunstan, Agriculture and Livestock Officer in Kilosa District, says the drying up of water sources is one of the effects, explaining that farmers are unable to do irrigation and gardening.
Due to that, Ms Dunstan advises farmers to cultivate short-term and drought-resistant crops including cassava, legumes and sunflowers.
"We urge them to keep the food they harvested last season, those who still have food inside, they should find an alternative to get income, not to sell what they have, because we don't know when the rains will fall," she says.
The dry spells have also hit some areas of the districts of Mkinga, Handeni, Korogwe and Kilindi in Tanga Region, forcing the wildlife, livestock and villagers to search for water.
Mr Miremeli Ole Maina, who is a herder from Mwakijembe Village in Mkinga District, says they are forced to drive their livestock for more than 38 kilometres every day to reach the water ponds of the Umba River, whose most part has dried up.
"The situation is bad, it has never happened here before, every day cows, goats, sheep and donkeys travel 38 kilometres to the water ponds and back," says Mr Ole Maina.
Villages in Korogwe District have also been affected largely by the herds of wild animals such as elephants, despite enjoying the last rainy season.
"We have no food when compared to previous years because many of us were afraid to go to our farms for fear of being attacked by elephants," says Ms Mwajabu Mjata, a resident of Mkomazi Town.
The Citizen witnessed some sisal estates having been destroyed by elephants that were in search of water.
In Kilindi District, the villages of Saunyi Ward are also in a bad situation as there is no water or pastures for livestock to graze on. (To be continued tomorrow)
Reported by Florah Temba, Maryasumpta Ausebi, Janet Joseph (Kilimanjaro), Mussa Juma (Arusha), Juma Issihaka (Morogoro), Raisa Said and Burhani Yakub (Tanga)