Kikwete calls for repositioning agriculture to unlock Africa's intra-trade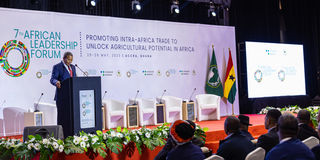 Accra. Delegates at the Africa Leadership Forum (ALF) have urged African countries to refocus on how to build a stronger supply value chain for agriculture on the grounds that the sector occupies the best opportunity to grow the highly needed intra-trade.
Leaders and other participants noted that Africa is endowed with adequate arable land to contribute substantially to the inclusive growth and development of the continent, holding more than half of the world's arable land and substantial renewable water resources required for irrigation.
More so, with an estimated 1.3 billion people, of whom the majority reside in rural areas and engage in agriculture as their core economic activity, it remains ironic that the continent still accounts for a mere 4 percent of total agricultural production worldwide, they noted.
Speaking at the Africa Leadership Forum (ALF), which kicked off on Thursday, Tanzania's retired President Jakaya Kikwete noted that the sector accounts for a large share of GDP and foreign exchange earnings for the continent and thus gives a unique opportunity for the highly needed intra-Africa trade.
"There is no sector that employs so many people as agriculture does, but it has not reached its potential, so discussing how to unlock potential is the right thing to do. More needs to be done in African countries and linked to how to undo poverty and remove food shortages and hunger. This is a great opportunity for inclusivity in the intra-trade chain."
The UONGOZI Institute has organised this year's 7th ALF in collaboration with the African Continental Free Trade Area (AfCFTA) Secretariat with the theme "Promoting intra-Africa trade to unlock agricultural potential in Africa".
As the convener and ALF Patron, Dr. Kikwete, noted that since it is the mainstay of the majority of the people in sub-Saharan Africa and the backbone of the economies, there is no better place to start on prioritising focus and innovation if the continent wants to increase trade among themselves, he urged
He said this important sector has not been able to perform optimally because of the many constraints impeding full exploitation of its potential. Therefore, for this forum to discuss unlocking the agricultural potential of Africa, it is the right thing to do.
Kikwete acknowledged that there are efforts being made by African governments for smallholder farmers and other stakeholders to transform agriculture, with significant ground already covered.
However, much more needs to be done to make agriculture play its rightful role in the growth and development of African nations and the wellbeing and prosperity of the people of Africa, he noted.
He was of the view that reports of Africa still spending huge sums of hard-earned forex importing food are not pleasant to hear. Likewise, adding that Africa is still exporting primary agricultural raw materials to the developed world and importing finished products from the raw materials that Africa exported
"Investment in our people, especially smallholder farmers and our young people; investment in our organisations and institutions to ensure the favourable environment of doing business prevails; and above all, our sacrifice to invest in the long-term African agenda over the short-term domestic priorities."
Opening the Forum earlier, Ghana's President Nana Addo Dankwa Akufo-Addo said Africa's intra-trade is one of the lowest in the region and remains fragmented with low production capacities.
"There is strength in unity." If all the 54 countries with 1.3 billion people, the majority of whom are young, and a $3 trillion GDP collaborate, this is a huge opportunity for growth and a way to deal with price hikes and global uncertainties," he noted.
He said that since this provides an opportunity for the private sector, governments should be bold through coherent, strategic actions through value addition and a greater sense of purpose.
AfCFTA Secretariat Secretary-General Wamkele Mene also noted that Africa remains a net food importer, with the food import bill put at $80 billion in the years 2015–2017.
"We need to unlock the potential of our rural communities in order to be part of the global value chain and enable smallholder farmers to be part of global trade. In recognition of the role of the private sector and businesses owned by women, AFCTA has prioritised agriculture and processing," he said.
Setting context for the plenary session, CRDB Bank Group CEO and Managing Director Abdulmajid Nsekela said Africa's agriculture market remains fragmented and scattered, which makes a case for integration as a way to boost the market and make the continent a global player.
He noted that the fact that Africa holds more than half its arable land but can't sufficiently feed itself while spending $40 billion on food imports per year needs change through capital and enabling policies to unlock the sector.
"To overcome these too, we must prioritise technology advances,knowledge transfer, sustainable farming practises, and the political will to drive this ambition forward." he said, adding that his bank had shown efforts in these emerging solutions.
He called on financial institutions to collaborate with the market as part of the solution to raising funding to support continental agricultural systems.
Other African leaders in attendance include former Nigerian President Olusegun Obasanjo, former President of Tunisia Dr. Mohamed Moncef Marzouki, former Nigerian President Dr. Goodluck Ebele Jonathan, and former President of Benin.
Thomas Boni Yayi, former President of Liberia Ellen Johnson Sirleaf, former Prime Minister of Ethiopia Hailemariam Desalegn Boshe, and former President of Sierra Leone Dr. Ernest Bai Koroma
The 2-day event highlights Africa's agricultural potentials and opportunities emerging from climate change, shares experiences and lessons on the obstacles (internal and international) in maximising agricultural potential in Africa, discusses the potential and obstacles to, as well as practical and realistic requirements for, implementing the AfCFTA within Africa's agriculture context, and identifies priorities and a roadmap for implementation of the agricultural trade perspective under the AfCFTA in order to realise its transformative economic objective.
Sponsors of the event included the AfCFTA, NMB Bank, CRDB Bank, the Tanzania Agriculture Development Bank, NBC Bank Tanzania, ASAS CommNet, RAHISI, DTB Tanzania, Karibu Travel, African Leadership Magazine, and several others.