Manyara to benefit from multibillion shilling road projects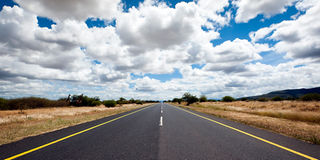 Summary
The extensive region's agriculture-based economy will benefit from the projected multibillion shilling roadways.
Arusha. Once perceived to be remote, Manyara Region will soon be an easy reach from the rest of the country.
The extensive region's agriculture-based economy will benefit from the projected multibillion shilling roadways.
Although some of the roads are still being designed, others are being built or are practically finished.
 This was announced in Babati yesterday by the minister for Works and Transport Prof Makame Mbarawa at the end of President Samia Hassan's visit to the region.
According to the minister, the paved roads will create new shorter routes in and out of Manyara apart from the traditional routes.
Currently, there are three main highways that connect the Manyara region, in north-central Tanzania, to the rest of Tanzania.
These are the Babati-Singida to the western regions and the Lake Zone and Arusha-Babati to the northern and northeastern regions.
Babati is well connected to the capital Dodoma and the southern and eastern regions, thanks to the completion of a new tarmac road through Kondoa a few years ago.
The planned new roads, besides improving connectivity, will also open up the remote Lake Eyasi basin and the prime agricultural zones in Mbulu, Hanang and Babati.
One of the roads under preparation will serve as a direct link between the region and the Lake zone through  the Simiyu region.
The new route will enable travellers  in that direction a shorter route to Mwanza, Simiyu and Mara regions instead of going through Singida.
The current Babati-Simanjiro-Kibaya dirt road will be upgraded to a tarmac level to link the semi-arid districts to the regional seat.
Prof Mbarawa could not give a detailed breakdown of the cost of construction but affirmed it will amount to "billions of shillings".
Negotiations to secure funds were also at different stages, especially for the roads that are still being designed.
One of the planned roads, whose funding is still subject to negotiations, is the 40km Mbuyu ya Mjerumani to Mbulu.
Its construction is likely to be 'a test of skills' for highway engineers as it would cut through the steep Rift Valley wall south of Lake Manyara.
Other roads that will be upgraded  include those connecting Kiteto to Dodoma and Arusha cities as well as Handeni in Tanga region.
The Katesh (Hanang) - Kondoa road as well as Karatu-Mbulu-Haydom roads will also be upgraded to a tarmac level. Addressing the Babati residents, President Hassan said upgrading of the roads was key for economic transformation of the region.
She implored on the Manyara residents to tap the full potential of the region's economy through agriculture and allied sectors.
On Tuesday, the president launched the  40,000 tonne food storage facility, constructed at the cost of Sh19 billion on the outskirts of Babati.
She, however, emphasized the need for the region to diversify its economic fortunes to fishing, given the abundant marine resources.