Milk self-sufficiency: Tanzania requires nine billion litres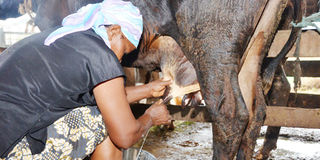 Summary
Milk production increased from 3.4 billion litres in fiscal year 2021/22 to 3.6 billion in fiscal year 2022/23, against a total of 12 billion litres
Dar es Salaam. Despite being second in the continent for the number of livestock, Tanzania is facing a deficit of nine billion litres in order to become milk self-sufficient.
Tabling the 2023/24 budget in Parliament early this week, Livestock and Fisheries Minister Abdallah Ulega said the population of milk producing livestock keeps increasing but the milk gap is still wide.
The number of cattle has increased from 35.3 million to 36.6 million in the 2022/23 financial year, while that of goats has increased from 25.6 million to 26.6 million. The number of other milk-producing animals, such as camels, is negligible in Tanzania.
But Mr Ulega, who doubles as Mkuranga MP, also informed the august House that the number of sheep has increased from 8.5 million to 9.1 million, noting that the number of chickens has increased to 97.9 billion from 92.8 million.
At the same time, milk production increased from 3.4 billion litres in the fiscal year 2021/22 to 3.6 billion in the 2022/23 fiscal year, which is equivalent to a five percent increment, according to Mr Ulega.
Because of the deficit, Tanzania had to import milk from outside the country. By April 30, 2023, a total of 11.6 million litres had been imported, worth Sh22.766 billion.
"The product has been imported from Uganda, South Africa, England, Ireland, Kenya, Oman, Dubai, Denmark, the Netherlands, France, Turkey, the United Arab Emirates (UAE), and Burundi," he said.
Despite the deficit, Tanzania exported a little bit.
"A total of 278,549.80 litres of milk worth Sh944.35 million were exported to Yemen during the financial year," Mr Ulega added.
The country's total annual milk demand is 12 billion litres, according to Mr George Masalya, Registrar of the Tanzania Dairy Board (TDB).
"Since the country's milk production capacity stands at 3.6 billion litres, then nine billion litres are required to reach the 12 billion litre requirements," Mr Masalya told The Citizen during an exclusive interview.
"The 12 billion litres will enable the country to meet its target of 200 litres per person per capita and at least 100 litres per child per capita. This is contrary to the current consumption of 64 litres per person per capita," he added.
During the phone interview, Mr Masalya noted that milk self-sufficiency can be reached within a short period through increased resource mobilisation and investment aimed at increasing the number of dairy cows and transforming livestock keeping activities.
Furthermore, he outlined reasons leading to persistent milk importation as low domestic milk productivity, poor collection and storage systems, and low prices offered to farmers.
Other reasons are the poor quality of domestically produced milk products and the ratification of regional, continental, and global trade and business treaties that lift importation barriers for different products, including milk.
Mr Masalya said that despite being ranked second in livestock population on the continent, most Tanzanian cattle are indigenous and have low milk production potential.
"This is coupled with poor livestock keeping that includes issues of animal shed construction, the provision of improved, enough, and quality feeds, the supply of enough water, and appropriate pest and disease treatment," he said.
"Indigenous breeds are not getting most of these services; instead, they are arbitrarily grazed, leading to poor milk production ranging from half a litre to a maximum of two litres per cattle per day," he said.
Out of Tanzania's 36.6 million cattle, only 1.3 million are dairy cows. The rest, 35.3 million, are indigenous cows that fill most of the milk gap out of sheer number and not individual productivity.
Indigenous cattle produce 2.4 billion litres per year, which is equivalent to 70 percent, while 1.3 million improved breeds produce the remaining 1.2 billion, which is equal to 30 percent.
"We would like to have many demonstration farms with cows that can produce 10,000 litres per day," he said.
Mr Masalya said 90 percent of milk-producing cows are kept in indigenous systems involving complex production setups. The complexity is brought on by poor transport infrastructure and an inadequate logistics chain.
"Sh200 million is required for the construction of one collection centre. Sh2 billion allocated in the 2023/24 budget will only construct 10 collection stations," he said.
The 10 centres will make a total of 262 stations out of the 770 that are required countrywide, justifying that a huge investment is required," Mr Masalya added.
Another problem is that milk transportation vehicles (tankers) are very expensive to purchase, costing over Sh300 million each. According to him, they usually consist of a condenser and an insulated tank for cold preservation when passing through hot environments.
"Small-scale processors and herders cannot manage the costs of these vehicles. Probably, large-scale dealers like Asas Dairies and Tanga Fresh Companies can manage the costs," he said.
In his clarification, Mr Masalya said available collection centres enable the country to collect only three percent of the milk, leaving aside the whopping 97 percent.
Furthermore, he said the low prices offered for milk, averaging Sh700 to Sh800 per litre, discourage herders and farmers from taking the produce to collection centres.
"This pales in comparison to the Sh2000 per litre retail prices that farmers get when they take their milk to various selling points in Dar es Salaam, for example," he said.
Mr Masalya said the quality of the milk produced remains a matter of serious concern. It is because of this concern that Tanzanians' preference has shifted to imported milk, hinting that consumer preference cannot be underestimated.
Most of the milk imported into the country comes in powdery form, which is converted to liquid form after arriving in the country.
"Most of the powered milk is consumed at workplaces, in offices, and at official functions," he said.
According to him, the production of powdered milk requires a high level of investment. Tanzania has no factory that produces powered milk, with the exception of one that is starting and whose construction has reached 80 percent.
"The factory is expected to be inaugurated before the end of the year. However, it is an investment that requires a high and constant milk supply. "Tanzania should be ready to supply enough milk to the factory," he said.
Regional, international treaties
Mr Masalya said Tanzania has ratified regional and international treaties, including those in the East African Community (EAC) and the African Continental Free Trade Area (AfCFTA).
He said the country is also bound by the conditions of the World Trade Organisation (WTO), which require smooth inter-country trade and business.
"Restricting the importation of commodities means a country is isolating itself from others in the regional blocs and the international community," he said.
He emphasised that milk from one bloc member that is marketable in another will be shipped as required.
Data from the TDB website shows that the milk market has been significantly growing in EAC between 2015 and 2020.
The market sizes in the respective years in brackets are: 157.86 million (2015), 162.34 million (2016), 166.95 million (2017), 171.69 million (2018), 176.57 (2019), and 181.59 (2020).