MPs call for tough laws on same-sex relations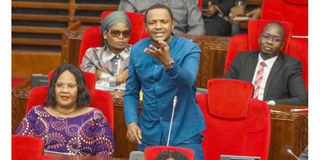 What you need to know:
The anti-homosexuality MPs, who have appear to have broad support from the government and religious leaders as well as the general public, want the offenders to also face death penalty if found guilty
Dodoma. Tanzanian MPs are pushing for a new anti-homosexuality law that would impose harsher penalties for same-sex (LGBTQ) relationships, a move that would promote African values among the younger generation and therefore the country's future.
The anti-homosexual Parliamentarians, who appear to have support from the government, religious leaders and the general public, want the perpetrators to face the death penalty if found guilty.
Despite not being expressly prohibited by the legislation of the land, homosexual actions are already prohibited under the umbrella of "unnatural offences," as stated in Section 154 of Chapter 16 of the Criminal Code.
For instance, the law stipulates that any person who has carnal knowledge of any person against the order of nature, or who has carnal knowledge of an animal, or who permits a male person to have carnal knowledge of him or her against the order of nature, commits an offence.
According to the penal code, if proven guilty, such individuals are liable to life imprisonment and in any case to serve a term of not less than thirty years behind bars."
It adds: "(2) Where the offence under subsection (1) is committed against a child under the age of eighteen years, the offender shall be sentenced to life imprisonment."
In the case of attempting to commit the said unnatural offences, Section 155 of the said penal code states: "Any person who attempts to commit any of the offences specified under Section 154 commits an offence and, on conviction, shall be sentenced to imprisonment for a term of not less than twenty years."
In a debate on the Prime Minister's 2023–24 budget estimates, Mr Festo Sanga, MP for Makete, said that if stiff action is not taken, then in 30–50 years, half of the lawmakers might be gay. "We need to act now for the future of the country. In fifty years to come, we may find ourselves with leaders of the same nature; in fact, it won't just stop there in the parliament, but we may find them in mosques and churches as imams and priests," he lamented.
Mr Sanga, however, was interrupted by a statement from his Tandahimba counterpart, Mr Katani Ahmed Katani, who thinks whoever is medically proven to have been involved in such acts, then he should be punished by a death sentence.
Moreover, Mr Sanga indirectly agreed with his colleague, saying the current maximum punishment is life imprisonment, but he thinks more has to be done by the government taking tougher action as everything is happening in the open.
"This is healthy for the country, let's act now, we shouldn't wait, this isn't African culture, it is neither our morals nor our values, our holy books—the Quran and the Bible—both reject it. We need to protect our children, because if we fail now, then we are going to have gay leaders," he said. Ms Jaqueline Ngonyani, the Special Seats MP, called on the responsible individuals to ensure that a bill that will clamp down on people who are involved in such immoral and unlawful acts is sent to parliament.
"I have heard various political and religious leaders condemn such woeful acts publicly, but it's unfortunate I haven't heard from the minister responsible. She should come out, as we want to know her position," said the speaker. Other MPs that were furious about the matter included Mr Abubakari Asenga, Kilombero MP, who was of the view that with the current legislature, it is almost impossible to tackle the matter, thus proposing a stiff and detailed law that can pin down any acts related to homosexuality.
Mr Asenga quoted one of the lawyers (he never mentioned his name) as saying; "I was told by a lawyer that it is difficult to curb such acts with the current law, as it only deals with unnatural penetrations, which are difficult to prove."
The legislator explained that the Ugandan law, which has a penalty of up to 10 years in prison, deals with acts of same-sex relationships. According to him, anything that is related to the homosexual movement is perishable by law.
But Ms Ng'wasi Kamani and Ms Najima Murtaza Giga, both special seat MPs for Chama Cha Mapinduzi, were of the view that the community should take charge and protect the youth.
They think the matter should not be left in the hands of leaders, but rather everyone should take part, from the family level to the national, as those promoting homosexual activities target the young generation, which is considered to be the country's human capital for development, and that the house should not shy away.
In Tanzania, homosexuality is a big taboo, so legislators demand harsher laws to clamp down on lesbianism, homosexuality, bisexuality, transsexuality, intersexuality, bestiality, necrophilia, and similar practises.