Prime
New fishing port to generate 30,000 jobs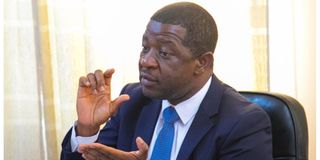 What you need to know:
On September 19, 2023, a fresh page in Tanzania's fisheries sector narrative will be penned as President Hassan inaugurates the Kilwa Masoko Fishing Port project.
Dar es Salaam. Tanzania is standing on the brink of a transformative era in the fisheries sector, marked by a pivotal investment initiative spearheaded by President Samia Suluhu Hassan.
This latest development was unveiled in a comprehensive address by the Minister for Livestock and Fisheries, Abdallah Ulega.
On September 19, 2023, a fresh page in Tanzania's fisheries sector narrative will be penned as President Hassan inaugurates the Kilwa Masoko Fishing Port project.
This initiative, Minister Ulega noted, represents a crucial stride in catalyzing the nation's growth trajectory.
Forefronting the initiative is the establishment of the new fishing port at Kilwa Masoko.
This venture is poised to revamp the fisheries sector in Tanzania, promising not only technological advancements but also a surge in employment opportunities.
"We are anticipating over 30,000 job positions opening up, ushering in a wave of fresh knowledge and proficiency in the sector," Ulega highlighted.
This effort dovetails with the broader impact of the fishing industry in Tanzania, which sustains over 5 million individuals across various roles including fishing, boat repair, net sewing, and small-scale trading.
"We are at the cusp of an exciting new chapter in our national growth story," Ulega stated, emphasizing the expansive vision the government holds for the sector.
The goal is to amplify its GDP contribution from 1.8 percent to a significant 10 percent by 2036. Reflecting this aspiration, the Ministry has seen a substantial increase in its 2023-2024 budget allocation, amounting to Sh295 billion, up from the preceding year's Sh176 billion.
Further enhancing the sector's efficiency, the initiative also encompasses the roll-out of modern fishing vessels equipped with cutting-edge GPS and Fishfinder technology.
These boats, varying between 5 and 14 meters, will facilitate optimal fishing expeditions, boasting storage capacities of up to 1.5 tons.
Moreover, in a significant step towards fostering gender equality, provisions have been made to support women, especially those involved in seaweed farming, with the allocation of 5-meter boats to streamline their operations.
Pledging transparency throughout the project's implementation, Ulega revealed that a public notification would outline the eligibility criteria for stakeholders within the fisheries value chain. "Beneficiary verification will occur at village and council levels to guarantee authentic stakeholders benefit from the resources," Mr Ulega affirmed.
The initiative is not just a testament to President Hassan's dedication to infrastructural progression but also reflects a deeper commitment to fostering socio-economic development for Tanzanians at large.
According to Mr Ulega, apart from ensuring food security the fisheries sector also generates income for coastal communities where fishing remains a primary livelihood source.
"We are committed to unlocking the enormous potential of both capture fisheries and aquaculture as avenues for job creation, wealth generation, and food security, establishing them as pillars of national economic growth," Ulega expressed.
Fisheries Sector Master Plan (2021/22–2036/37), Minister Ulega described it as a visionary roadmap steering Tanzania towards an era of economic revival powered by the rich resources of its waters.
The plan envisions a dramatic uplift in fish production, targeting an increase from 479,311 tonnes to a remarkable 1 million tonnes by 2037.
Concurrently, it aims to enhance aquaculture's share from 4 percent to a notable 20 percent of the total fish production.