Prime
Samia urges farmers to increase production of sesame and peas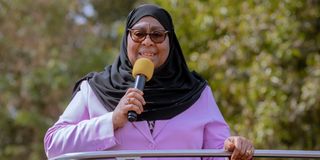 What you need to know:
Farmers abandoned such crops in recent years due to a sharp drop in global pricing, which rendered them bankrupt
Dar es Salaam. President Samia Suluhu Hassan has instructed farmers in Lindi and other southern regions to expand pigeon pea and sesame farms, which have emerged as lucrative commercial crops.
The Head of State issued the directions for her continuing tour of the Mtwara and Lindi regions, where she is evaluating the implementation of development projects and listening to locals' problems.
Speaking in Mtama District, Lindi Region, President Hassan said during the visit she has witnessed large cashew farms, noting however that pigeon peas and sesame were grown on small-scale farms.
She said that prices for pigeon peas and sesame have greatly grown since securing the current stable market, and she expressed the expectation that they will continue to be high for the foreseeable future.
"I would want to propose that you increase pea crop production, especially given the market's current size. Let's hope that prices continue to be high in the coming years after improving this year,," she said.
"We have the contract on pigeon peas; I humbly ask you to increase the crop production. Boost sesame output as well because it is a valuable commodity worldwide. It will always have a market," she insisted.
Furthermore, she stated that the government was attempting to connect farmers with multiple markets and eliminate exploitative middlemen who collect crops at lower prices and leave farmers in poverty.
Tabling the 2023/24 budget in Parliament, Agriculture Minister Hussein Bashe outlined the country's production in 2020, 2021, and 2022, as well as 165,726 116,042 and 108,222 metric tonnes, respectively.
He said in the three respective years, the crop generated Sh79.246 billion, Sh63.967 billion, and Sh51.729 billion, respectively.
But the sixth-phase government vowed to restore India's pigeon pea market, which frustrated Tanzanian farmers following the sudden decline in prices in 2017.
The price declined to a tune of Sh200 per kilo from over Sh2,500 per kilogramme, which was witnessed in 2016.
However, reports attribute the decline in price to the export ban imposed by India despite the presence of a valid contract.
It is said that the Asian country did so to protect their local farmers, who harvested high yields during the year.
The then Industry and Trade minister, Mr Charles Mwijage, was quoted as saying the ban was wrongly imposed, hinting that the two sides were engaged in resolution talks.
In February 2022, Mr Bashe held talks with the Indian High Commissioner to Tanzania, Mr Binaya Srikanta Pradhan, and agreed to sign a Memorandum of Understanding (MoU) that would lift the ban extended to the crop.
"We at the ministry are preparing a working team that will sit with their Indian counterparts and design a MoU providing details of all Tanzanian crops exported to India," he said during a briefing.
He said the two sides intended to end the frequent ban on Tanzanian crops exported to India.
He said during the meeting that the government of India was also asked to continue exempting import duty for Tanzanian avocados as compared to competitors, whose 30 percent import duty charges will continue.
"I would like to inform lentil farmers and buyers that we are finalising a discussion that will prevent including the crop among those prevented from entering India. Regarding pigeon peas, we are going to sign the MoU," he said. Meanwhile, President Hassan said that following the increasing price of pigeon peas and sesame, the government was struggling to ensure that farmers got high prices once the cashewnut trading season began.
She called on farmers to process harvested cashews in order to increase their value instead of trading Raw Cashew Nuts (RCNs).
"Let's focus on trading value-added cashews next season instead of raw materials. We will use the raw materials to produce cashew nut shell liquid (CNSL), which is also highly demanded. This will also enable us to create jobs inside the country," she said, assuring that the government was also working on cashews.