Sipano, a Maasai promoting Tanzania culture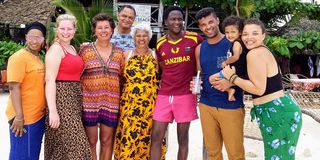 Summary
Peter Sipano is a young Maasai man who has been in Zanzibar for the last 25 years working in the tourism industry. He speaks 11 languages: Italian, Spanish, Portuguese, German, and Kiswahili, among others. He is one of the direct beneficiaries of the "Royal Tour," after President Samia Suluhu Hassan launched the documentary in the US. Ahead of the documentary's anniversary and as we mark the visit of US Vice President Kamala Harris, our correspondent, Anganile Mwakyanjala, interviewed Sipano on his expectations and what he sees as the future of young Tanzanian entrepreneurs who have invested in tourism.
QUESTION: Maasai are mainly known to reside in the northern part of Tanzania; what made you decide to relocate to Zanzibar and how did they welcome you?
I was moved to Zanzibar in 1998 as a young schoolboy by my Maasai family members, who found opportunities in Zanzibar, which was in the early stages of opening for tourism and the world was starting to discover it, especially the Italian resorts. I was just in primary school, and I spoke English, which made me useful in Zanzibar for translation between Maasai watchmen and tribal jewelry vendors who were Maasai ladies. My language skills helped Maasai people integrate well into Zanzibar society.
You have been featured in an Italian TV program; how did that come about?
I worked for some top Italian TV channels and programs, and participated in many commercials, movies, and documentaries.
I had to speak on TV about my country and its many beautiful narratives about wildlife, Zanzibar, Maasai magic, cuisine, and much more.
There was a big festival celebration when the Royal Tour was launched in Zanzibar.
As a young investor, how did you participate, and what was the atmosphere like?
The Royal Tour has been a tremendous blessing for us in the tourism sector and travel industry. The documentary was very important for us after the bad years of Covid-19. My entire Sipano Beach Lodge team and I went to perform several dances and songs showcasing our mixed cultures of the cosmopolitan Islands of Zanzibar to the guests of The Royal Tour. We hosted some of the delegations, especially Tanzanian government officials from the mainland, free of charge. I was happy I could do my part; it was a very special moment of hope.
It's almost been a year since the Royal Tour was launched on April 18, 2022, in the USA. How has it helped boost the tourism industry?
Just a few months after President Samia's Royal Tour was launched in the USA, in my northeastern village of Kiwengwa in Zanzibar, some restaurants got fully booked for months ahead; sometimes no room is available all over Zanzibar; people are building more hotels and houses some kilometres away from the beach, and still, they are fully booked even before they finish.
Tourist arrivals are mostly from France, the USA, Italy, Poland, Germany, South Africa, Lithuania, Switzerland, Israel, the Czech Republic, the UK, Romania, Hungary, and Serbia. We have many arrivals from all the Nordic countries as well; there is also an increase from the Middle East and some African countries, such as Morocco, South Africa, and Kenya.
You have been in tourism for years now; what do you think makes Zanzibar so attractive to tourists?
It has beautiful white sandy beaches, beautiful weather, and people from diverse global cultures and backgrounds. Also other factors such as political stability, peace, kind people, and healthy pure food, from fruits to seafood.
Another reason that makes Zanzibar a more interesting destination is that it is not just a beach like other islands like the Maldives; Zanzibar has an interesting history dating back before slavery and the colonial era, dating back to the 19th century under the first Sultan Sayyid Said.
Another interesting fact about Zanzibar is that it is close to Tanzania mainland; therefore, it is possible to enjoy the island and also do a safari on the latter.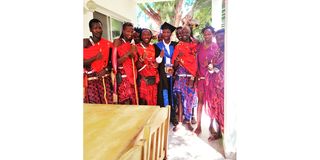 Having hosted hundreds of tourists, what would you highlight as the most memorable experience?
I have a lot of stories about my time with tourists from all over the world for the last 25 years. One recent story is about a young Italian couple who came and wanted to get married because they had been engaged and living together for a long time.
The interesting part is that they wanted me as a priest to officiate their wedding. I had to organise a traditional Maasai wedding and, as the top traditional priest, I had to invite Maasai elders to help me give blessings to the new family of Simona and Roberto.
We prepared a lot of food and invited around 200 villages to celebrate, dance, and sing for them.
US Vice President Kamala Harris has visited Tanzania. What are your hopes for her visit and the impact it will have on young entrepreneurs like you?
Indeed, Kamala Harris' visit is a blessing for Africa, especially Tanzania. My trust is that there will be improvements and positive changes in the lives of young people as a result of the visit.
If you were to have an audience with the US Vice President, what would you ask her?
I would ask her to put Tanzania on the list of America's top allies. Tanzania needs close partnership and a deeper bond, so that in times of distress like the food shortage and high prices we have seen recently in Africa, Tanzania can have an ally to cooperate with to ease the situation that may arise.
You will hardly see young Tanzanians starting their own tourism company, mainly having a fleet of safari vehicles or hotels; they mainly seek employment. What do you think should be done to have Tanzanian youth into CEO positions or owning their tour operations?
Young Tanzanians should receive training and confidence-building on owning a business. Confidence is a big problem—not an idea or capital, just confidence. In Zanzibar, only Indian, Arab, and European youth have the confidence to start a nice business, especially in the hospitality industry. My fellow black people think that business is to be done by white people only. This is how they discouraged me since the beginning of my hotel establishment and the boutique souvenir shops I started with; they sometimes accused me of pretending to be white while I'm just normal like others. According to them, I should just work in a business like a taxi driver, garbage collector, food supplier, animal caretaker, etc. I kept building and managing my hotel well, and they were surprised that I was succeeding in the hospitality industry better than many businesses owned by foreign investors.
The Sipano Lodge is famous for its vibrant parties for tourists, but you operate a lodge. How did you get into the business?
I established Sipano Beach Lodge as a result of my long-time experience in tourism. I found out that some international travellers wish to see a more authentic Zanzibar.
Tourists hosted in mostly Italian lodges and hotel resorts ask to have a truly African holiday. So, I had the idea to approach village elders for land at the beach and organised with foreign supporters and investors to establish an authentic hospitality structure where guests would experience traditional hospitality values and love, local food, drinks, plantations, singing, and local dancing lessons, etc.