Prime
Struggles of private sector high-flyers in the public service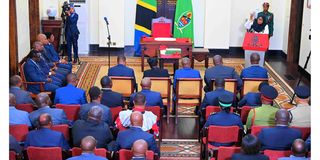 Dar es Salaam. The redeployment of former Tanesco managing director Maharage Chande from TTCL to Tanzania Posts Corporation (TPC) within 72 hours reminds pundits of how private sector bigwigs end up being frustrated upon accepting appointment to public office.
President Samia Suluhu Hassan last weekend moved Mr Chande from Tanzania Electric Supply Company Limited (Tanesco) to Tanzania Telecommunications Company Limited (TTCL), but in a dramatic turn of events, the appointing authority reposted him to TPC on Monday.
President Hassan was, however quick to defend her decision yesterday, saying much as she wanted to take advantage of Mr Chande's vast experience since his days at DSTV (MultiChoice) by posting him to TTCL, she later came to realise that he had business interests in a company that does business with the government-owned telecommunication firm.
"I decided to avoid conflict of interest so I picked you for the post of Postmaster General," she said adding that having taken part in a recent forum for Pan-African Postal Union in Arusha, she came to realise that TPC was moving in the right digital direction.
"I realised that that is the right place for you," the Head of State said.
She said she did not remove Mr Chande from his position at Tanesco due to power cuts. "That was not the reason. This (power cuts) is a collective challenge. We have not conducted preventive maintenance on our power production equipment for a long time and now we are doing this together as a team. As we do so, we have switch off other equipment hence the power shortage."
Despite the explanation, however, it was not the first time that a person who did well in the private was moved from one entity to another within a short time after accepting appointment to head a State-owned company.
In April 2021, President Hassan rescinded the appointment of Dr James Mataragio as managing director of Tanzania Petroleum Development Corporation (TPDC) and replaced him with Mr Thobias Richard. But within 24 hours, Dr Mataragio was reinstated at TPDC where he served until February 2023 when it was announced that he would be assigned other duties and was succeeded by Mr Mussa Mohammed Makame.
Both Mr Chande and Dr Mataragio commanded enviable respect during their days in the private sector.
Dr Mataragio, who was appointed by President Jakaya Kikwete in December 2014, holds a PhD in Geochemistry, Mineralogy, Structural Geology and Petroleum Geology from the Missouri University of Science and Technology in the USA.
Mr Kikwete told the nation that Dr Mataragio was appointed based on the role he played in advising Tanzania on how to develop the oil and natural gas sector. That was the time when Dr Mataragio was in the US working as a senior geoscientist with a company known as Bell Geospace in Houston.
As for Mr Chande, President Hassan's administration appointed him from MultiChoice, where he worked as Regional Director for East Africa.
His elevation to the position of regional director came in 2018 after he succeeded in driving the company's growth between 2016 and 2018 when he served as MultiChoice Tanzania managing director.
Prior to joining MultiChoice, Mr Chande worked at Vodacom Tanzania as managing executive for IT and Data from 2004 to 2010 and at the National Bank of Commerce (NBC) as chief operating officer from 2010 to 2014.
The duo represent a crop of business executives who the government started courting, mostly during the Kikwete administration in an effort to bring private sector thinking in key state-owned entities.
The list could also include Ms Juliet Kairuki, who President Kikwete appointed in 2013 to replace the late Emmanuel Ole Naiko as Tanzania Investment Centre (TIC) executive director.
A qualified lawyer who completed her Bachelor of Law at the University of Dar es Salaam and Masters of Law degree at the University of Cape Town, Ms Kairuki was working in South Africa when she was appointed to head TIC.
A member of the Institute of Directors in South Africa, Ms Kairuki's experience in the banking and in the private sector was viewed as a unique trait that could help to boost investments in Tanzania. But in April, 2016, President John Magufuli dropped her.
Similarly, when Mr Kikwete appointed Mr Omari Issa in 2013 to head the President's Delivery Bureau (PDB), very few would have imagined that the agency (PDB) would be easily deposed of a few years later.
The thinking then was that with his extensive business experience at the highest level of both the public and private sectors, having worked in Africa, Asia, Europe and Latin America, Mr Issa was indeed be the right person to work as CEO for an institution that was established to oversee implementation of Tanzania's Public Delivery Transformation Programme termed Big Results Now (BRN).
 He previously worked as CEO for the Investment Climate Facility for Africa (ICF) where he was responsible for managing the ICF's seven year-programme to improve Africa's investment climate and remove barriers to growth.
He formerly worked as Executive Director and Chief Operating Officer of Celtel International and also spent fourteen years with the International Finance Corporation (IFC) and six years with the World Bank which all gave him first-hand experience of the realities of doing business in Africa.
When Mr Tido Mhando left his job as the head of Kiswahili Service at the BBC after he received an appointment by Mr Kikwete, some may have thought that the government wanted to bring new breathe in then ailing state-owned broadcaster but though independent journalists though he did a wonderful job, the appointing authority did not see it that way and he ended up in court.
The list could go on and on if the likes of the late Dr Mwelecele Malecela, who did fairly well in the public sector but then the appointing authority saw it otherwise, are to be considered.
Analysts say frequent changes were dealing a heavy blow on people who have track record of performance in the private sector.
Frequent changes discourage executives from making long-term plans for the institutions they lead because they are unsure of what may happen next.
"Frequent changes erode the desire for the executives to design long-term plans for the institutions they lead. With frequent changes, one gets a feeling that I could be moved from here even before implementing what I plan to do…," said a University of Dar es Salaam political scientist, Prof Mohammed Bakary.
He however noted that the appointing authority basically makes a decision after acquiring certain information about the performance of the appointees and therefore, it [the appointing authority] should not be blamed.
Tumaini University Dar es Salaam College (TUDARCo) political analyst, Lazaro Swai said generally private sector strategies differ from those of the public sector. As such, the appointees need time to readjust to the system and cultivate networks to share opinions and strategies.
"The appointees need to be given sufficient time to transform or restructure the organization they are appointed to lead," he said.
In most cases, he said, the appointees find the organization in bad shape and thus they need to restructure by identifying people in key positions that can bring the much-needed results.
They also need to change values, vision and know the diehards that cannot move with them and remove those that have proved to be stumbling blocks.
A former senior civil servant, who became an opposition politician after her retirement, Ruth Mollel said it was imperative that experts appointed to lead government institutions be left to use their expertise to turn around the institutions.
She stressed that appointments should focus on meritocracy for succession to be successful.
"A majority of people from the private sector don't understand the government machinery and therefore they must work hand in hand with the institution's memory by listening to them to understand how things work," she said.