Prime
Can new Tanesco boss end power woes in six months?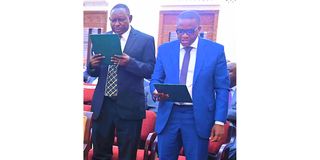 Dar es Salaam. President Samia Suluhu Hassan on Tuesday tasked the new Tanzania Electric Supply Company Ltd (Tanesco) boss to end power woes in six months.

President Hassan appointed Mr Gissima Nyamo-Hanga as the new Tanesco managing director last week to replace Mr Maharage Chande, who is now the Post Master General, after spending only one day at the Tanzania Telecommunications Corporation (TTCL).

Currently, Tanzania is under power rationing caused by reduced generation caused by reduced water levels in dams and repairs to the electricity infrastructure.

"We have an electricity crisis as a nation, and I trust you are able to sort it out. Some people might think this was the reason for replacing Mr Maharage Chande, but that is not," said President Samia during the swearing-in of the newly appointed officials in Dar es Salaam.
According to her, it's not Mr Chande's fault for causing the power crisis, but the real situation on the ground.
"Our machines had not been serviced for a long time. Along this process, some of the machines must be switched off, and as a result, the situation causes a shortage of electricity," she said, adding that the shortage of water due to climate change was another cause for the electricity shortage.
"I give you six months to rectify the situation and ensure there is no more power rationing. I trust you are able to control the situation," she said.
"Nyamo-Hanga, you have only six months... strictly six. I don't want to hear noises about power cuts," she emphasised.
Recently, Tanesco's deputy investment director, Mr Declan Mhaiki, was quoted as saying that the dry season has caused a low inflow of water in generating dams, leading to a shortage of electricity.
"There is a low inflow of water from some sources, and that is affecting the electricity generation," he said.
"At the same time, the demand for electricity has been quickly increasing in the last three years due to the growth of the economy," he added.

According to the Ministry of Energy budget, electricity generation was estimated at 1,872 megawatts through hydropower, natural gas, solar, heavy oil, and other means.
Natural gas and hydropower were the major sources, accounting for 64.04 percent and 3.69 percent, respectively.
The government is marching towards the target of generating at least 5,000 megawatts by 2025, as planned in the ruling Chama cha Mapinduzi manifesto.

In an attempt to increase the availability, reliability, and quality of grid-based power supply within the country, the government also plans to have a 40/60 renewable/conventional power generation mix by 2025.

The government desires to have a cost-effective generation mix portfolio from available energy sources.