Tanga Cement row: Former High Court judge speaks out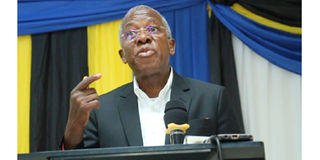 What you need to know:
Judge Mihayo said the government should respect and implement the first judgment by the quasi-judicial Fair Competition Tribunal (FCT)
Dar es Salaam. The controversy surrounding the acquisition of Tanga Cement Limited has continued to capture the attention of legal stakeholders after retired High Court Judge Thomas Mihayo added his voice to the debate.
Judge Mihayo said in Dar es Salaam at the weekend that the government should respect and implement the first judgment by the quasi-judicial Fair Competition Tribunal (FCT), which prohibited the merger.
Addressing a news conference in the city, he said ignoring initial decisions could have far-reaching consequences, including discouraging investors, who may believe that the country does not respect judicial rulings.
Judge Mihayo was referring to the verdict delivered on September 23, 2022 by Lady Justice Salma Maghimbi, Dr Godwill Wanga and Mr Boniface Nyamo-Hanga, who blocked the proposed Sh137.33 billion takeover.
However, in December 2022, Scancem International lodged a fresh bid with the FCC to acquire Tanga Cement.
The new application was approved by the FCC in February 2023.
The controversy surrounding the bid has refused to go away as various parties are engaged in a tug-of-war on the legality of the latest approval.
Judge Mihayo said, "The first decision by the tribunal was crystal-clear…it prohibited the merger. If interested parties were not satisfied, the best course of action was to apply for a review to overturn that judgment."
He added that if the Investment, Trade and Industry ministry wants the proposed merger to go ahead, it should seek a review of the tribunal's initial verdict.
Judge Mihayo warned against disregarding the FCT's decision, saying it could discourage potential investors from investing in Tanzania.
"Her Excellency the President's good intention of attracting more investors could be derailed. It is dangerous when potential investors think that ministers' opinions can override decisions made in accordance with the law," he said.
Judge Mihayo's remarks echo those made on April 10 of this year by former Tanganyika Law Society (TLS) president Edward Hoseah, who commended the FCT for suspending the Tanga Cement acquisition process.
Prof Hoseah, who previously served as the Prevention and Combating of Corruption Bureau (PCCB) director general, stated that the FCT's decision "must be respected because it clearly demonstrated the need to protect consumers".
He emphasised that Tanzania, as a lower middle-income economy, needs strong laws to protect its economy against unfair competition.