Tanzania close to attaining malaria prevalence goal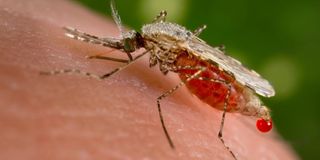 What you need to know:
The National Malaria Control Programme wants to accelerate the process of eradicating the illness in the country by 2030 by reducing the prevalence of malaria in children under the age of five to less than 3.5 percent by 2025
Dar es Salaam. Tanzania has recorded a 10 percent decline in malaria prevalence from 18.1 percent in 2008 to 8.1 percent in 2022, according to new statistics from the ministry of Health.
The National Malaria Control Programme targets a further decline in malaria prevalence among children under the age of five to less than 3.5 percent by 2025, intensifying the journey towards disease eradication in the East African nation by 2030.
The new data has been released a few days before April 25, when Tanzania will join the rest of the world in commemorating World Malaria Day. Dr Abdallah Lusasi, who leads the National Malaria Control Programme, told reporters that statistics show a rapid decline in the infection of the deadly disease for the country and world history.
He said the current Malaria Strategic Plan (MSP) aims at reducing the average prevalence to less than 3.5 in 2025 and completely eliminating the disease by 2030 through different phased approaches.
He noted that since 2008, they have been able to increase the number of people living in areas free from malaria infection from four percent (2008) to 41 percent (2022), therefore contributing to the notable success and a positive forecast for 2030.
"Regarding malaria morbidity and mortality from 2015 to 2022, the number of confirmed malaria cases has declined by 55 percent from 7.7 million in 2015 to 3.5 million in 2022," said Dr Lusasi.
He said malaria incidence per 1,000 people, on the other hand, has reduced by 64 percent from 162 in 2015 to 58 percent in 2022. Hospital admissions due to malaria cases have decreased by 66 percent from 529,146 in 2015 to 178,549 in 2022, which indicates a decrease in severe cases. Although 94 percent of the population on Tanzania's mainland lives in areas with malaria transmission risks, he said the number of malaria deaths recorded in health facilities has decreased by 76 percent, from 6,311 in 2015 to 1,502 in 2022.
"The new stratification (2022) shows an increase in the number of councils with very low malaria transmission risks from 36 (2020) to 38 (2022) and a decrease in high burden councils from 64 to 57," he noted.
The World Health Organisation (WHO) says the secret behind Tanzania's progress, among others, is the implementation of the programme that has divided the country into small units where different intervention combinations are used to accelerate malaria elimination.
On the one hand, in areas with very low risk, measures are taken on a case-by-case basis depending on the outcome of malaria surveillance. On the other hand, areas with high malaria transmission risk, such as southern Tanzania, are getting surveillance intensification, curative, preventive, and control interventions to reduce the disease burden.
The stratification of malaria burden in the country and tailoring of the response, WHO says, have been made possible by using malaria infection rate data taken weekly from routine health management information systems at health facilities alongside the vector surveillance results.
Furthermore, the new report mentioned the deployment of a package of interventions based on malaria transmission risk, including malaria burden reduction interventions in areas with moderate to high transmission risks and elimination interventions in areas with low to very low transmission risks, as part of the various phased approaches.
Data indicates that while the central regions of Dodoma, Singida, Manyara, Arusha, Kilimanjaro and Songwe have zero percent prevalence in 2022, Mwanza, Iringa and Dar es Salaam have one percent.
More efforts are required in some other regions in order to change the highest prevalence tide in 2022.
The regions with their respective prevalence percentages in brackets are Tabora (23.4), Mtwara (20), Kagera (18), Shinyanga (16), and Mara (15). "These successes have come following huge efforts put in place, including reaching students in primary schools in regions with higher infections. Also, Community Health Workers (CHWs) have been used in implementing different interventions at the village level," said Dr Lusasi.
"We are now shifting our focus and efforts to regions that still have a high prevalence in order to ensure that by 2025 our prevalence is cut to 3.5 percent and we completely eliminate the disease by 2030," he added.