Tanzania's forex reserves down by 10.9 percent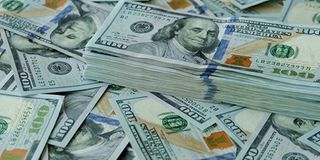 What you need to know:
Global headwinds blamed for s $600 million (about Sh1.4 trillion) drop in foreign exchanges reserves over the past year, but the government says nation still has enough for 4.4 months of imports
Dar es Salaam. Tanzania's foreign exchange reserves have fallen by $600 million (about Sh1.4 trillion) during the past year, but the government says there is no reason to worry and the future remains bright.
In its latest statement, the Monetary Policy Committee (MPC) says foreign exchange reserves closed at $4.9 billion (about Sh11.7 trillion) at the end of April 2023.
This represented a nearly 11 percent drop from the $5.5 billion (about Sh13.1 trillion) that was registered at the end of April 2022.
Despite the fall, however, the MPC, which is chaired by the Bank of Tanzania (BoT) governor, says the level of reserves was sufficient to cover 4.4 months of imports, which is within the country's benchmark of at least four months.
And, according to the head of the government communication unit and spokesperson at the Finance and Planning ministry, Mr Benny Mwaipaja, Tanzania is in a better shape than a number of its regional peers insofar as foreign exchange reserves are concerned.
He attributed the trend to good monetary and economic policies, a conducive business environment and economic diplomacy.
"This has prompted more investors and development partners to bring in their money. Capital inflows have resulted in the building up of our foreign exchange reserves," Mr Mwaipaja told The Citizen by telephone yesterday.
However, with current global developments, it is not surprising to see the country's foreign exchange reserves go down by 10.9 percent at the end of April 2023 compared to the same period last year, he added.
Globally, demand for foreign exchange has shot up in recent months as importers seek more dollars to finance imports owing to higher global prices of fuel, food, cooking oil and steel, among other imports.
It was on those grounds that Mr Mwaipaja said the decrease in the country's reserves was to some extent triggered by the Russia-Ukraine war and the Covid-19 pandemic.
Fuel prices have been rising since 2022 and hit record highs in April of the same year in Tanzania.
During the period under review, the price of a litre of petrol in Dar es Salaam stood at Sh2, 861, whereas a litre of diesel was quoted at Sh2,692.
"Like any other country, Tanzania has been spending much of its foreign exchange reserves to buy fuel and wheat since the Russia-Ukraine war has made these products more expensive," said Mr Mwaipaja.
However, he added, with strategies in place to boost transportation and agriculture sectors, the future is promising.
"We are optimistic these strategies will shore up our foreign exchange reserves."
An economist from the University of Dar es Salaam, Prof Abel Kinyondo, said the available foreign exchange reserves, which can cover 4.4 months of imports, are a reflection of macroeconomic stability.
"We are talking about 4.4 months. Some countries have no reserves to cover even a single day of imports. The situation is worse out there," he said.
However, Prof Kinyondo said the 10.9 percent drop in reserves should be a wakeup call for the government to promote exports by beefing up investment in the export processing zone.
"Let us back up our industrial base so that we can export more than we import. This will in turn reduce pressure on demand for US dollars," he told The Citizen.
Prof Kinyondo also said it is high time the country reduced its dependence on petrol, diesel and kerosene and instead went for alternative energy sources that include gas, solar, wind and thermal power.
Trade and economic expert Nebart Mwapwele said the country's available foreign exchange reserves suggest that the government took deliberate measures to lessen the effects of external shocks---Covid-19 and Russia-Ukraine war.
"But it should not end there. It is high time the government took measures that will boost reserves," he recommended.
"We need to promote local production to increase exports. We need to reduce dependence on imports because it is very risky to our economy when there is a crisis of foreign currency that is used for transactions."