Tanzania forex reserves at their lowest in five years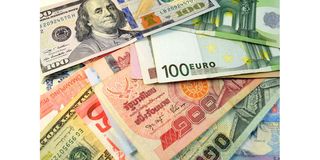 Summary
The Bank of Tanzania's Monetary Policy Committee has attributed the fall to the economic consequences of the war in Ukraine
Dar es Salaam. Tanzania's foreign exchange reserves can now cover only 4.2 months of imports, the shortest period for five years.
The Bank of Tanzania has attributed this to the economic consequences of the war in Ukraine.
Although the import cover is still within the country's benchmark of four months, the 4.2 months are below the East African Community (EAC) and Southern African Development Community (Sadc) convergence targets of at least 4.5 and six months, respectively.
Foreign exchange reserves are assets held on reserve by a central bank in foreign currencies with the aim of meeting international financial obligations, including sovereign and commercial debts, and financing of imports.
The last time foreign exchange reserves fell to 4.2 months was at the end of February 2017 when gross official reserves were around $4.35 billion.
At $6.7 billion in October 2021, Tanzania had foreign exchange reserves that could cover imports for seven months, the highest figure in almost 17 years.
This record was partly attributed to funds from development partners – specifically a Special Drawing Rights (SDR) and an interest-free loan from the International Monetary Fund (IMF) – which were a result of President Samia Suluhu Hassan's economic diplomacy efforts.
However, there was a tide of change at the beginning of 2022 after Russia's invasion of Ukraine in February 2022 triggered rising energy costs, surges in commodities prices, and significant damage to the global value chains.
As a result, Tanzania's foreign reserves dropped by 15.31 percent from $5.85 billion at the end of February 2022 to $4.96 billion at the end of September 2022.
At its November 28, 2022 meeting, BoT's Monetary Policy Committee (MPC) chaired by governor Florens Luoga remarked that although the country's foreign exchange reserves remained stable, rising import prices were a major challenge.
"The external sector of the economy remained sustainable but continued to be undermined by global supply-side shocks, which include high import prices and tightened financial conditions," MPC's statement reads in part.
In interviews with The Citizen, economic analysts urged Tanzania to develop its local production capacities in order to reduce reliance on foreign imports and enhance its international trade status.
Dr Tobias Swai, a financial expert from the University of Dar es Salaam, said the deepening of the geopolitical conflict between Russia-Ukraine and its consequences had taught one thing, and that is the significance of self-reliance and strong domestic production capacity.
"The conflict has had an enormous impact on international trade and forex. So, we are now tasked with improving our local production and push forward the domestic industrialisation agenda," he said.
"We need to make sure that we reduce dependency on imports such as agro-processed commodities, energy, and products that can be manufactured locally such as small electronic gadgets, solar equipment, and the like."
Dr Swai said it was also a task for the government to create enabling environment for domestic investment and formulate an education system that would push for more technical creativity and innovation.
"Policies on innovations and investment need to be directed to the commodities that we need most, but which we mostly import because as we reduce the number and values of the product and services from outside, we will be able to sustainably manage our foreign accounts," said Dr Swai.
A University of Dodoma (Udom) economist, Dr Mwinuka Lutengano, said the country's focus should be on boosting earnings through expanding the export values.
This he said can be done by boosting production of the locally produced commodities and/or reducing imports.
"We export more of raw materials, thus going forward what we can do is improve local processing industries that will add value to the products exported.
"Boosting local capacities, such as in the strategic crops and goods like sugar, edible oil and wheat will decrease the amount we spend on these imports and increase our foreign reserves," Dr Lutengano said.