Tanzania targets upper middle-income status by 2050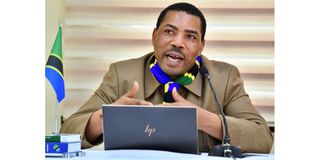 Summary
The government has begun preparing the 2050 National Development Vision that is expected to guide Tanzania to the upper middle-income status
Dar es Salaam. A new development blueprint is on the cards as planners seek to propel Tanzania to upper middle-income status by 2050, the government revealed yesterday.
Tanzania graduated from a low-income to lower middle-income country in July 2020 after its Gross National Income (GNI) per capita crossed the $1,036 mark.
Currently, the country's GNI per capita stands at $1,140 according to World Bank data which was revealed in Parliament last month by Finance and Planning minister Mwigulu Nchemba.
"Tanzania has maintained its status since becoming a lower-middle income country in 2020, but this time around, with the GNI per capita reaching $1,140, we have taken a big step," said Dr Nchemba, quoting World Bank figures that were released in July 2022.
He was responding to fears Tanzania had slipped back to low-income status.
To graduate to an upper middle income country, the country's per capita GNI will have to be between $4,046 and $12,535, according to the World Bank's 2021 classifications.
The Commissioner for National Planning in the ministry of Finance and Planning, Dr Mursali Milanzi, said in Dar es Salaam yesterday that the government had started preparing the 2050 National Development Vision that will guide Tanzania to the upper middle-income status.
Dr Milanzi, who was speaking during the National Planners Conference 2022, said the government was currently seeking opinions from various stakeholders to make the new development blueprint inclusive and meaningful.
"We are committed to not only protecting the achievement that we have recorded so far, but also doing better than now," he said in a sideline interview of the Planners Conference.
The new Development Vision, whose implementation will start during the 2026/27 financial year, is set to build up on the current Development Vision 2025, which is at its final stage of implementation.
Currently, the country's third Five-Year National Development Plan – which covers the period from financial year 2021/22 to 2025/26 – is being implemented.
It envisages increasing Tanzania's production capacity, building a competitive economy that will stimulate the country's participation in trade and investment as well as stimulating human development.
Finance and Planning deputy permanent secretary Lawrence Mafuru directed national planners to come up with a few and realistic plans that will take the nation to the next level.
He said it was high time the government avoided making everything a priority, or else, it would be hard to implement them.
"It is impossible for a country to have, say, 20 priorities. We need a few tangible plans, of which will be easy to make a follow-up upon and eventually have impact," insisted Mr Mafuru.
"We need plans that will make us competitive in terms of human resources and financial resources and that (plans) will make our natural resources have an impact on Tanzanians."
Mr Mafuru added that the nation's plans should factor in the ongoing trends on the globe.
He was referring to the Covid-19 pandemic, Russia-Ukraine war and climate change.
"We need to deal with the issues that can be our impediments. We don't need templates, but we need tangible plans in terms of context and content," recounted Mr Mafuru.
A University of Dar es Salaam (UDSM) economist, Dr Abel Kinyondo, said the government should come up with plans that reflect global realities like climate change.
Around the world, people are experiencing both the subtle and stark effects of climate change, with people already burdened by poverty and oppression often suffering the harshest consequences, while having the least ability to cope.
"The world is like a global village. We are heading to the world that only those who are rich in skills, will stand a chance to survive," Dr Kinyondo told The Citizen yesterday.
He said the only way Tanzania could compete with its peers on the globe is through creating competency to its people at all levels.
It is high time, he added, that the country parted ways with business as usual by setting a stage for academic institutions to offer requisite skills.
The government was quoted by The Citizen in 2020 as saying it was doing all in its power to lower the labor force with low skills from 79.9 percent, according to the 2014 National Labour Force Survey, to 54 percent, which is the international standard.
"The only way for us to make it and survive is by having science and technology skills," observed Dr Kinyondo.
He went on adding: "We need serious investment in research and development so that we can come up with innovation that will be the solution to our problems.
"We need to have think tanks who will be thinking about how to move the country to the next level."
Think tanks and research centers are important because they propose solutions to critical economic, social, and political issues.
On the other hand, Dr Kinyondo expressed the need for developing an industrial base which is labor intensive.
"The more people you have in decent jobs, the better the economy because there will be a room for multiplier effect," he asserted.
Adding: "Much more importantly, with decent jobs, one will get skills which are transferable and this is what has made countries like China and Vietnam shape their economies."
However, he said, for this to happen, there should be a conducive business environment that offers predictable policies to attract more investors.
The economist from Mzumbe University, Prof Aurelia Kamuzora, said for Tanzania's target of graduating to upper middle-income status it needed to invest massively on agriculture, education and climate change.
"We need a strategy that will target to modernise the agriculture sector since it is the largest employer," she told The Citizen yesterday
Official data shows that over 65 percent of total employment in Tanzania is in the agricultural sector.
Prof Kamuzora was also of the opinion that for the agriculture sector to be productive, national planners should come up with a smart strategy meant to address the issue of climate change.
On the other hand, she suggested for the change of the educational curriculum only to focus on applied knowledge that will be of paramount importance in building the generation which is well equipped with high level of skills.
African countries in the upper middle-income category include Mauritius, South Africa, Botswana, Namibia, Equatorial Guinea, Gabon and Libya.
Middle-income countries are home to 75 percent of the world's population and also represent about one-third of global Gross Domestic Product (GDP), according to the World Bank.
"Middle-income countries are major engines of global growth," reads a part of the statement available on the World Bank's website.