Tanzania: Zitto wants govt to issue report on Mpeta deadly clashes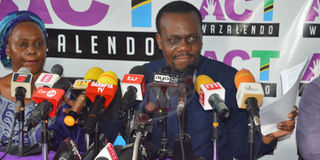 What you need to know:
The government has remained silent over deadly clashes in Kigoma region that pitted the police against pastoralists and Zitto Kabwe says his party, ACT Wazalendo is collecting information on the incident to release to the public.

Dar es Salaam. The ACT Wazalendo party leader, Zitto Kabwe, has scolded the government for staying silent over the recent clashes in Kigoma Region that left scores dead and many others injured.
About a fortnight ago an operation to remove livestock keepers from a protected forest in Uvinza District went awry after it degenerated into deadly clashes that left at least two police officers and an unknown number of civilian dead. Scores others were injured.
Neither the police nor the Kigoma Regional Commissioner's office has issued a statement on the incident, despite the fact that the Inspector General of Police, Simon Sirro visited the area recently.
Addressing a press conference on October 28, 2018, Zitto also claimed that retribution killings are continuing even after the clashes.
"The situation is tense in the area and people deserve to know the truth on what happened and on steps being taken to solve the situation," Zitto noted.
Reports from local residents say the operation to remove the pastoralists from the area had to be suspended due to the clashes.
"We want the Police to issue a statement to account for all the deaths that took place during the clashes," Zitto noted.
He said his party, ACT, is collecting information on the issue.
"Once our investigation are complete we will publish the number of the dead," Zitto added.