Tanzanian scholar with Seven degrees has died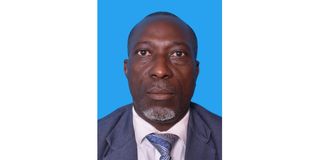 What you need to know:
Prof Mwafwenga held three 'Doctor of Philosophy' (PhD) degrees, three Master's degrees and a Bachelor of Law degree.
Dar es Salaam. Tanzanian scholar believed to be a holder of as many as seven degrees Prof (Dr Juris) Handley Mpoki Mwafwenga has died.
Close sources say Prof Mwafenga passed away while receiving treatment at Muhimbili Hospital where he had been admitted.
A public servant, Prof Mwafenga was until his death, a senior officer in the Ministry of Finance.
In 2019 his curriculum vitae (CV) became an item of interest, making it a subject of debate on social media platforms.
Prof Mwafwenga held three 'Doctor of Philosophy' (PhD) degrees, three Master's degrees and a Bachelor of Law degree.
He had set his eyes on acquiring a total of 10 degrees, by 2019 he was pursuing a fourth PhD.
His journey to several degrees started in 1987 when he graduated with an Advanced Diploma from the Dar es Salaam-based Institute of Finance Management (IFM).
Thereafter, Prof Mafwenga saw the sky as the only limit to his academic pursuit - despite his colleagues advising him to 'take a rest' from studies.
With several other 'short-course Certificates,' Prof Mwafwenga stood tall among the learned breed, holding several professional titles as an economist, a psychologist, a lawyer and a tax expert.
The 56-year old started schooling at the Mwananyamala primary school, then proceeded to Sangu secondary school where he completed his O-level education in 1975.
His craving for professorship started as a young boy when his father kept addressing him by the title 'Professor.'
"My father kept telling me to study hard. He was a primary school teacher and I'm the last-born in our family. My father instilled in me the love for life-long schooling," he said, revealing that their family has several PhD holders.
He once told The Citizen, that whenever he gets a brainwave of how some people love beer, football or spending time with their loved ones, Prof Mwafwenga gets a strong urge for further studies.
"I study whenever I face a new challenge in life. I hate the tendency of giving up without coming up with a lasting solution to it," said Prof Mafwenga who has already published four books, and more than 50 articles in vetted journals.