Tarimo joined Wagner group in Russia, says Foreign Ministry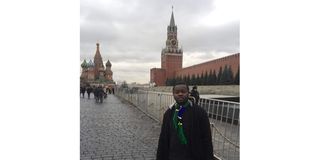 Tanzanian national Nemes Tarimo was killed in the battle fields of Ukraine, the foreign ministry has confirmed.
Speaking at the news briefing on Tuesday, January 24, Minister for Foreign Affairs Dr Stergomena Lawrence Tax said available information shows that Tarimo was conscripted by the Wagner group while in prison where he was serving a 7-year prison sentence.
"Nemes Tarimo went to Russia in 2020 for further studies, where he joined Moscow Technological University for a Master's degree in business informatics. In March Tarimo was sentenced to 7 years in Prison. While in prison he joined Wagner group and he was later taken to the battle field where he met his death on October 24," she said.
Dr Tax confirmed that Tarimo's body left Moscow today and is expected to arrive in Tanzania any time, after which it will be handed over to the family for burial arrangements.
According to the minister, Tanzania's law prohibits its national from joining armies of other nations and whoever does so, breaks the law.
"The only army that can join as a Tanzanian is the Tanzania People's Defence Forces," she said.
According to information available online, the average estimated annual salary, including base and bonus, at Van Wagner Group is $118,949, or $57 per hour, while the estimated median salary is $125,542, or $60 per hour.