Why Bukoba Airport not suited for heavy aircraft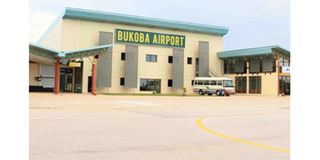 Summary
Many technical concerns have been raised since a Precision Air plane crashed into Lake Victoria, killing many people, after failing to land safely
Dar es Salaam. Since a Precision Air plane crashed into Lake Victoria, a lot has happened including an expert in airport design, engineer Bennie Mushumbusi, who suggests that Bukoba Airport is unfit for handling large aircraft.
Mr Mushumbusi agrees with Captain Khalil Iqbal, secretary of the Tanzania Pilots Association (Tapa), who stated to The Citizen earlier this week that taking off and landing at Bukoba and Arusha airports were a challenge to pilots.
He added that the nearby mountains and the unfavourable weather in the two places were a cause of concern.
He claimed there were several instances where aircraft bound for Arusha were forced to make an emergency landing at Kilimanjaro International Airport.
"The recent assessment of international technical and safety standards by the International Civil Aviation Organisation (ICAO), Tanzania scored 67 percent in airport safety and security which is above the minimum requirement of 60 percent," he was quoted as telling the media.
Speaking exclusively to The Citizen, Mr Mushumbusi who is the former Icao aerodrome engineer in the Eastern and Sub-Saharan office, said Bukoba Airport is unsuitable for large planes.
Mr Mushumbusi, who is an expert in the construction of airport runways, navigation aids (Navaids) and airport power supply, said the geographical location of the airport makes it unfavourable.
According to him, when choosing an area for construction of airports, factors including the absence of trees, mountains, valleys, sharp slopes, oceans, rivers, lakes etc are considered. "Assumption should be that there is a time weather will be bad which is common in Europe where it is sometimes characterised by extreme snow which is slippery in nature," he said. This requires airports to be designed in a way that will enable planes to withstand snow and continue landing, despite the bad weather," he added.
According to him, initially Bukoba Airport had 1.2 kilometres runway suitable for small planes such as Twin Otter and Fokker Friendship with a capacity of carrying 11 and 28 people respectively.
Further, he said the airport upgrading and specification has made the present runway have 1.5 kilometres long.
"The said runway cannot accommodate a large aircraft weighing above 30 kilometres that require a minimum of 2.02 kilometres according to manufacturer's specifications," said the expert.
Going into detail, he said large planes require huge force to support take-off and landing processes, hinting that some of the engines are used during landing in the brakes backing.
Mr Mushumbusi said pilots landing such aircraft at Bukoba Airport are supposed to be extra-careful especially in brake application.
He said his house is located some four kilometres from the airport, noting that he has been hearing the sounds of brakes being made when planes land, signifying that the pilots struggle. Further, he said the airport has been surrounded by mountains, describing the one in front of the landing direction adjacent to the road heading to Ihungo Secondary School as terrible. He said pilots are subjected to the hardship of duties in case they want to abort landing over any technicalities, posing threats of hitting the mountain. "During landing, planes are also supposed to fly above Msira Islet located at the descending path that is very close to the airport. Pilots are supposed to go down immediately after the Islet because it is where the airport's runway starts," he said.
"This makes pilots to struggle in order to ensure planes land exactly where the airport starts in order to make better use short distanced runway. If the pilots are honest, they will unveil this challenge," he added. Further, he said even if the runway is 2.02 kilometres, yet there are other obstacles that should be put into consideration during the airports construction. He said unlike the Mwanza and Dar es Salaam airports that provide different landing options, the planes landing at Bukoba airport are provided with only one land landing option. "These issues are put into consideration by insurance companies whenever there are accidents. They will revisit the type of plane, manufacturer's specified airports and several other given specifications before making compensation decisions," he said. Further, he said as a responsible citizen, he has shared his concerns with authorities including the regional CCM and government leaders, legislators and writing to the TAA.
In his 14 years of service, Mr Mushumbusi said he has worked in Europe and Africa especially in Uganda during the construction of the Entebbe International Airport between 1989 and 1990.
He has also worked in Zimbabwe, Namibia, Djibouti, Somalia, Malaga, Thailand, before joining the UN Secretariat in New York, according to him.