Prime
The powers behind East Africa's Afcon win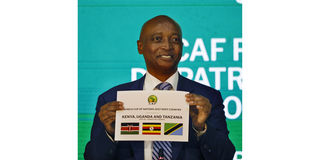 What you need to know:
Apart from Tanzania, Kenya, and Uganda, CAF also awarded Morocco the right to host the 2025 tournament.
Dar es Salaam. Damas Ndumbaro, the minister of Arts, Culture, and Sports, has described how the three nations won the bid as the African Football Confederation (CAF) executive council confirmed that Tanzania, Kenya, and Uganda will jointly host the 2027 Africa Cup of Nations (Afcon).
Apart from Tanzania, Kenya, and Uganda, CAF also awarded Morocco the right to host the 2025 tournament.
Ndumbaro told The Citizen from Cairo, Egypt, on Wednesday that commitments from three heads of state, President Samia Suluhu Hassan, President William Ruto of Kenya, and Uganda's Yoweri Museveni, were front and centre on the bid, which all East African countries are celebrating for victory.
Ndumbaro stated that sports ministries, national sports councils, football regulatory organisations, and stakeholders from the three nations were critical to winning the 'Pamoja bid'.
He claimed that the three countries battled with African football powerhouses, making the bid the most difficult and unpredictable.
"Three heads of state stood in the way of the bid. They have supported the movement from the beginning, and we are now celebrating victory despite the fact that we competed against Senegal, Nigeria, Algeria, and Botswana, which were all supported by the Southern African Development Community (SADC)," he said.
He then added: You can see how difficult the task was. We won because of our teamwork, hospitality, and other factors. We would like to thank all of the CAF executive committee members who voted for us to win the bid. It will go down in history as our aim is to reach the historic Africa Cup of Nations finals.
He explained that 2027 is not far away and that after they return home, they will plan an intensive timetable for the three ministers to discuss tournament preparations.
 For her part, National Sports Council (NSC) secretary general Neema Msitha stated that the Cecafa Zone will make history by hosting the Afcon finals for the sixth time. Ethiopia hosted in 1962, 1968, and 1976, while Sudan hosted in 1957 and 1970.
Cecafa Zone has not held a sporting event in 51 years.
Msitha, who was among the delegates present for the voting, urged all football stakeholders to support the successful Afcon finals in 2027.
However, Kenya, Tanzania, and Uganda each have only one international-standard site, forcing their national teams to play 2023 Cup of Nations qualifiers in neutral venues.
Bringing the tournament to East Africa follows CAF president Patrice Motsepe's comments earlier this year that he did not want consecutive tournaments in the same parts of the continent
Meanwhile, President Samia Suluhu Hassan has said Tanzania will make good preparations ahead of hosting the Afcon finals.
President Samia said that on her X ( formerlyTwitter) account.
"Thank God we have managed to get the opportunity to host the biggest football competition in Africa (AFCON 2027) in collaboration with Kenya and Uganda.
"I congratulate all of you who participated to ensure that our country gets this wonderful opportunity. I instruct the Ministry of Culture, Arts, and Sports to ensure that we make good preparations, including the completion on time and with high quality of two new modern football stadiums in Arusha and Dodoma."