Prime
DigitALL: The dawn of a green economy for the girl child?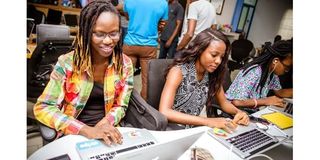 Summary
Women equality in the green economy is a careful combination of self-nominated women leaders as well as structural support systems that hold space for women to equally participate in
In her groundbreaking novel Lean In, Sheryl Sanderberg, the former Facebook COO, famously referenced the 'chicken and egg' dichotomy. She saw the chicken representing a proactive push from women to eliminate historically patriarchal systems and governance and encouraging women to pull up their own chairs at the table (whether or not invited). By contrast, the egg is concerned with removing systematic barriers to women's access to leadership positions and power.
So, ten years after the release of "Lean In", how can we gauge progress and then set a trajectory to achieve gender equality - particularly so against the vision of a technology-powered green economy? The theme for International Women's Day 2023, DigitALL: Innovation and technology for gender equality advocates for gender balance in the global digital transformation so that such transformation is gender equal. As an illustration of the challenge, the 2022 UN Women's snapshot report revealed that gender discrimination in the digital economy cost developing countries $1 trillion of total GDP in the last decade alone.
Post-COP-27 we must also revisit the Climate Change Gender Action Plan (ccGAP), a policy instrument by the International Union for Conservation of Nature (IUCN) that supports gender inclusive policy dialogue and capacity development. Progressively, countries have adopted instruments of similar effect - with Pakistan being a recent example - indicating a willingness for gender equity at policy level. A report by Capital for Climate predicts that 'nature tech', a technology based initiative that delivers nature-based solutions, will increase investment by $6 billion by 2030. This is a tender opportunity for gender equity to take shape as we collectively respond to the climate crisis. From a policy perspective, this will mean that within societies with traditionally patriarchal gender roles, policy makers must eliminate implicit biases (including different income levels and labour force participation) which are more pervasive than explicit biases in policy formulation and execution.
Implicit biases can occur as a result of female roles in society traditionally being more domestic, and according to an OECD publication on tax policy and gender equality these biases discourage working women as it may be cheaper to stay at home than get taxed at similar income rates as male counterparts but have no tax relief for additional expenses that are predominantly borne by women to give them the freedom to work (like child care or help, or taking an Uber home at night instead of public transport for safety). However, on a practical level, we may not have the means to allow tax deductions for Uber rides at night, or compensate for stay at home roles just yet.
"Empowering Women" was the theme a year ago in the World Bank's Tanzania Economic Update (March 2022), which highlighted how Tanzania's sustained progress in expanding women's economic opportunities has contributed to recent success in growth and poverty reduction, including a significant increase in the female labor-force participation rate, but also explained the serious constraints that Tanzanian women continue to face including as a consequence of Tanzania's high average fertility rate (4.8 children per adult woman) which is correlated with decreased economic activity, lower levels of education, poverty, and diminished female agency.
From my perspective the key is to enable women to co-exist in male dominated spaces and transcend biological assumptions - including the assumption that a woman's prime years are before family commitments. With an average of only 35 percent of girls in STEM education, greater effort is required to tip the scales for gender balance to achieve Sustainable Development Goal (SDG) No. 5. So let's get the tech labour market to embrace equity by outpacing the pipeline for female talent with education and training.
If leveraged strategically, the chicken and egg debate can help decipher resource allocation and strategy to break the gender bias and achieve a more inclusive environment while at the same time aligning with a tech-geared climate action plan. Though the chicken and egg dichotomy is an interesting philosophical debate between assertive leadership and improving accessibility - more convincing is the argument that female representation status should conform to both fronts. Women equality in the green economy is a careful combination of self-nominated women leaders as well as structural support systems that hold space for women to equally participate in. Nonetheless, what an exciting time to be a woman and decide for yourself whether the chicken or egg came first!
Dagless Kangero is an Associate, Tax Services at PwC Tanzania