EDITORIAL: Caution needed as EAC mulls single tourist visa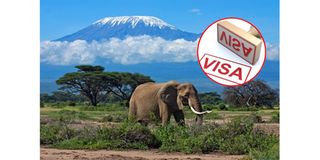 Summary
The fact that the EAC offers an enviable selection of tourist destination sites makes the single tourist visa arrangement even more appealing
The idea of a single tourist visa being rolled out in the East African Community (EAC) region is a step in the right direction due to the projected benefits that will accrue with such an arrangement.
But if history has taught us anything, it is that such multinational arrangements, especially under the umbrella of a regional bloc, need to be carefully implemented in order to avert any possible grievances from member states.
The fact that the EAC offers an enviable selection of tourist destination sites makes the single tourist visa arrangement even more appealing.
While Africa attracted 43 million tourists in 2022, 13.5 percent of them visited East Africa. Considering what the region has to offer in terms of tourism destination sites, this percentage, which is equivalent to 5.3 million tourists for the entire region, is less than pleasing.
Tanzania and Kenya enjoy the lion's share of the arrivals, which is close to 3 million combined. But this number pales in comparison to what a country like Egypt is able to attract annually.
Going by the 2022 figures, Egypt alone welcomed over 11 million tourists, topping the list of the most visited countries in Africa. When you compare that number with Tanzania's and Kenya's 1.4 million tourists in the same period, it goes to show that there is a lot of ground that needs to be covered for East Africa to not only realize its full potential but also reach heights that will make it a continental and global competitor.
Due to the projected benefits of implementing a single visa that will allow tourists wishing to visit the East African region to access all seven countries of the EAC, the research and advocacy exercise that is being undertaken by the East Africa Tourism Platform should factor in the possible challenges that such an arrangement might encounter.
It is critical to have a sober mind as a whole, and foresight always comes in handy when pushing for such ambitious and complex initiatives.
The good thing is that three of the seven EAC member states laid the groundwork that can somehow be used as guidance when they established the multiple entry visa that allowed tourists visiting Kenya, Uganda, and Rwanda to enjoy a borderless experience in these three countries for 90 days.
What this means is that Tanzania, with its unique natural endowments, stands to benefit from the influx of tourists flocking to the region in search of a travel adventure and experience of a lifetime.
With the single tourist visa being a forerunner to a single tourist destination in the region, there are fears that perhaps a borderless tourist market in East Africa might benefit more those who are less endowed with natural scenic destinations, much to the detriment of perennial destinations such as Tanzania that might have to settle for sharing the unique tourists with the rest of the members.
But on a bigger picture, what this arrangement provides is opportunity for scale, not only in the direct tourism market but also in affiliated businesses.
The opportunities are in abundance, and it just requires member countries to strategise as a united front in order to reap the full rewards that lie ahead.