How disruptive will Elon Musk's Starlink be in Tanzania?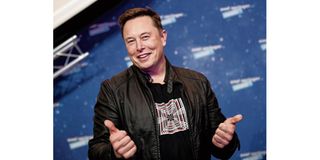 What you need to know:
Ideally, it is preferable to achieve the needed developments using local companies. This is why I believe the government should be very careful about what it allows or does not allow Starlink to do.
Elon Musk's Starlink has set its sights on launching its satellite services in Tanzania. The firm has applied for a license from TCRA, and operations are expected to begin before March ends. But the latest public exchange between Musk and Tanzanian authorities reveals more than meets the eye. While many Tanzanians wish for a quick launch of Starlink, the case for Starlink in Tanzania is not as simple as it may seem.
The need for Starlink in Tanzania can hardly be overstated. Customers in this market rely on a trickle of data packages that go for mobile internet here. Every few years, operators showcase new generations of mobile technology, and the market is soothed by the apparent progress. But 3G came and went, 4G came and is going, and 5G is here—what do we have to show for our progress?
New generations of digital technology have tended to transform how people communicate, conduct business, and trade. But we have not had that here since incumbents enforce the status quo by concentrating on traditional services instead of pursuing high-value-added services. Consequently, instead of encouraging customers to consume more data, operators restrict usage by squeezing every ounce of value from every byte that is exchanged.
According to a 2021 ITU report, Tanzanians pay steep prices for data, ranking 144th out of 189 nations when adjusted for income. This is the market that has been calling for disruption for ages, and who is better suited to shake things up than the man who specialises in market disruptions, Elon Musk?
Speaking in 2014, Musk observed that there is a significant unmet global demand for fast broadband services in hard-to-reach areas. Thus, the unprecedented proposal to set up a constellation of 42,000 Low Earth Orbit (LEO) satellites that would envelop the globe with ultra-high throughput broadband beams, each capable of carrying at least 17Gb of data every second, was meant to alleviate that need. The aim was to handle about 10 percent of global traffic and 50 percent of all backhaul communications.
What Musk didn't reveal, though, is the fact that right in the heart of bustling cities like Dar, Arusha, Mwanza, Dodoma, and Mbeya, there are countless users who long for something better but are stuck with subpar services from apathetic operators.
As an alternative, Starlink offers a 1,000 GB package with 20ms latency and 150Mbps speeds for around 200,000 shillings, in every aspect beating all mobile operators. To acquire that capacity, Tanzanians must cough out at least 2 million shillings today. Therefore, if Starlink is properly marketed, it will not be rural Tanzanians—who cannot afford Starlink anyway—but high-value, data-starved, urban surfers who will migrate in droves to the more appropriate Starlink connections.
But Starlink has another surprise in store for local operators: it plans to offer mobile phone services from space using virtual satellite cell towers. Starlink has already applied for permission to fit its latest satellites with direct-to-cellular hardware. The new capability would allow Starlink to provide voice, messaging, and internet at theoretical peak download speeds of up to 18Mbps. As early as 2024, Starlink could have the capability to provide full and continuous smartphone coverage through satellites. That could have significant implications for manufacturers, operators, and customers.
Years ago, I had the pleasure of doing a two-week intensive training on Voice over IP (VoIP) technology at the Innovation Centre in Belfast, organised by a VoIP solutions provider now acquired by Cisco. I had been in telecom circles for years, but I had not seen anything compared to what I saw then. Surprisingly, even after a decade, I have yet to see those VoIP capabilities realised anywhere, not even close. Hopefully, Starlink will finally push the industry to fully embrace VoIP without leaning on legacy systems.
Given all that Tanzanians have suffered for years, perhaps many will have no qualms about seeing the backs of local 'mobile tormentors'. But as much as we yearn for faster downloads and superior services, our longing for broadband convenience should not make us ignore the big picture.
Local operators provide much more than just connectivity. They pay taxes. They provide employment. They use local suppliers. Their staff spend money in our shops. So, even if their business practices tend to hamper innovation and now and then they hike their prices, what is the big deal? After all, innovation bongo?
Ideally, it is preferable to achieve the needed developments using local companies. This is why I believe the government should be very careful about what it allows or does not allow Starlink to do.
Moreover, given the nature of satellite technology, Starlink would hardly need local employees. It can collect revenues from afar while being barely accountable to local authorities. This was likely Starlink's original idea - in India, they marketed their services before obtaining permission to operate. The government had to issue a statement to put some brakes on them. We, likewise, need to wisen up a little.
In Tanzania, Starlink will use spectrum resources, which can be used for other services. It will earn money for doing business here. It has the potential to displace local workers. It is good to understand what we are getting ourselves into.
Right now, it is possible that lobbyists for mobile operators, who prefer maintaining the status quo over improving their services, are working hard to delay Starlink's entry into the market. It is not my intention to join that unholy mob, mainly because the opportunity that Starlink presents is quite tantalising. Nevertheless, we cannot overemphasise the need for careful consideration of the implications of allowing Starlink to operate in Tanzania.
Not all doors need to be opened.