President Samia's letter to Tanzanians on 30 years of multi-party democracy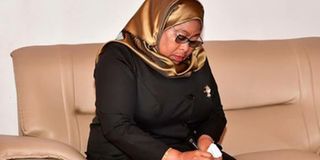 What you need to know:
However, it would be a big mistake to think that the work has been completed. I believe that we are now going through the same difficult environment that existed when we embraced multi-party system
July 1st 2022 marked 30 years since our official return to multiparty politics. In that period, our nation has gone through a period of joys, sorrows, tribulations and challenges, common to any nation that follows a new path. It was not easy because the world was also passing through tough times. So the period during which Tanzania returned to multiparty politics was a difficult period.
The early 1990s witnessed a series of events that started with the dissolution of the Soviet Union, civil wars in Africa, genocides and other economically and politically motivated conflicts in developing countries like ours.
But, Tanzanians passed through that period united and we have continued as such for 30 years.
I would like to take this opportunity to congratulate all and it is my hope that leaders who will come 50 or 100 years later will continue leading a unified nation, with people who do not discriminate against one another or fight, even if they differ on how to lead their nation.
It is important to explain how we entered the system. President Ali Hassan Mwinyi formed the Judge Francis Nyalali Commission which reported that only 20 per cent of Tanzanians wanted the multiparty system.
The wisdom of Mzee Mwinyi and his fellow leaders allowed the minority to have a sway.
Had our leaders waited till the majority wanted multiparty politics, we wouldn't probably be where we are today. This is one of the biggest lessons for politicians of my generation and for future generations. That as far as national interests are concerned, knowledge and wisdom are more important than numbers.
From one political party - Chama Cha Mapinduzi (CCM) - now we have about 20 registered political parties.
Instead of only hearing one voice and, sometimes, of one person, as we used to say "Long live the ideas of the chairman", now Tanzanians are exposed to various political ideas. Even Chairman Mao once said "Let a hundred flowers bloom."
I would like to, specifically, commend all those who made this journey successful; party and government leaders who saw the importance of allowing multiparty politics before wars and chaos forced us; activists and intellectuals who helped us see that we needed to enter the multiparty system.
However it will be a big mistake to think that the work is all done. Because it is clear that we are now going through a similar difficult situation like the one that existed when we started the multi-party system.
There are wars being fought, including in the developed world; the liberal democratic system is passing through challenges; and great powers are fighting for global domination.
These are challenges that leaders of the current generation must overcome as my predecessors did.
That is why in my leadership I believe in what is known as 4Rs- which is the abbreviations of; Reconciliation (Maridhiano), Resiliency (Ustahamilivu), Reforms (Mabadiliko) and Rebuilding (Kujenga Upya).
 
Reconciliation
In a famous 19th century comic opera called Iolanthe the creators Arthur Sullivan and W. S. Gilbert said something interesting about the American nation during that time; "Everyone born is either a conservative child or a liberal child".
I do not believe in such presuppositions that a human being, be it a politician, a leader or a common citizen, must have a rigid position on matters of national interest. A particular position or situation may be understood or accepted at some point in time but not always.
It's not always time to pat each other on the back and not always a time to oppose one another.
In building a better Tanzania I aspire to create a society that lives in harmony and understanding.
I wish to foster unity regardless of our political, religious or ethnic differences.
This will only be possible by creating a society in which everyone enjoys equal rights before the law, where there is no discrimination and where there are equal economic opportunities for all.
I believe reconciliation cannot be attained where there is discrimination and where some people are denied economic and civic rights.
 
Resiliency
As father of the nation, Mwalimu Julius Nyerere, once counseled us, nation building is not a joke. Tanzania cannot move forward if we the people and the leaders are incapable of defending what is ours.
The only way to deal with all the challenges facing the world currently is through unity and solidarity because, as the adage goes, Unity is Power
In our journey we will meet challenges and obstacles, be it economically, politically, socially and environmentally. But we must be resilient. This is because we have no other country.
I was moved by Tanzanians' positive and patriotic response to the Royal Tour.
 
Reforms
There is a saying that the only constant in life is change. I am determined that in celebrating our years of Tanzania's democratic my administration will initiate reforms in areas of politics, economy and in the electoral laws.
The goal is for Tanzania to go with the times and - as it was the case 30 years ago- for us to know well in advance when to introduce reforms even if the majority do not yet support them at the time.
Reforms in electoral laws will create a level playing field in our politics and give the electorate an opportunity to elect the leaders they want. In the economy reforms will ensure that more people, as opposed to a few, benefit from economic opportunities.
 
Rebuilding
I am aware that people cannot eat reconciliation, resilience or reforms. At the end of the day - as did my predecessors Benjamin Mkapa, Jakaya Kikwete and John Magufuli - our main goal should be economic growth. And the growth should be sustainable enough to create employment to our youth and open up opportunities to all social groups in the country.
We are continuing with major construction projects in the infrastructure, energy and mining sectors.
Efforts made through the Royal Tour campaign are aimed at reviving the important sector of tourism that was highly affected by the Covid-19 pandemic.
In agriculture we are going to institute more reforms to ensure that the crucial sector starts to have an important contribution to the economy.
I am confident that in our 4Rs initiatives, we will be able to fulfill the goals of having a multiparty system.
Our main objective was not to have a multitude of political parties but to build a resilient and patriotic society that values reconciliation, with sustainable economic growth that benefits all. This is the best way to honour all those who fought for multiparty politics in our country.
Kazi na Iendelee...............
Samia Suluhu Hassan is the President of the United Republic of Tanzania and Chairperson of the Ruling Party Chama Cha Mapinduzi