Press freedom: Old challenges remain despite new tone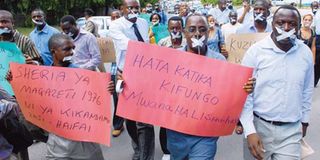 What you need to know:
The President's '4R Strategy' tallies with a conciliatory tone that she struck after taking office a little over a year ago, which is a sharp departure from her predecessor's more forceful style of leadership.
Every May 3 acts as a reminder to governments around the world to honour their domestic and international commitments to media freedom, free speech and the right to information.
It also serves as a day of celebration and collective reflection for media professionals on fundamental principles of press freedom and journalism ethics.
As journalists from Tanzania and across Africa gather in Arusha today to mark World Press Freedom Day, they will be hoping that President Samia Suluhu Hassan's self-proclaimed reform agenda will reverberate in the country's media landscape.
In a recent visit abroad, President Hassan declared that reconciliation, resilience, reforms and rebuilding of the nation will be the cornerstones of her presidency, but fell short of offering specific details.
The President's '4R Strategy' tallies with a conciliatory tone that she struck after taking office a little over a year ago, which is a sharp departure from her predecessor's more forceful style of leadership.
In a young democracy like Tanzania, the President's can often have profound and far-reaching consequences.
When President Hassan's predecessor publicly warned journalists and media outlets to "watch it and be careful", and added that the freedom that the media they thought they enjoyed was "not to that extent," government officials swiftly responded by shrinking the space for media freedom in Tanzania.
As a result, Tanzania experienced unprecedented declines in press freedom over the past five years, with the country falling 53 places in an international ranking by Reporters Without Borders (RSF).
In 2016, Tanzania was ranked 71st on the World Press Freedom Index, but plunged to 124th in both the 2020 and 2021 rankings, marking the biggest drop.
When asked about her views on press freedom in the early weeks of her presidency, Ms Hassan responded, "I like it, let them offload." It is, therefore, perhaps no coincidence that the new tone set by the President has breathed new life into the country's media industry.
President Hassan's participation as guest of honour at World Press Freedom Day – the first time in history for the President of the United Republic of Tanzania to accept an invitation to grace the event – has raised new hopes for media freedom in the country.
Against this backdrop, it is worth noting that some progress has been made on press freedom in Tanzania since President Samia took charge in March last year, largely as a result of a change of tone from the very top.
In February, this year, authorities lifted a ban on four privately-owned newspapers following the President's instructions.
The government also slashed by half the fee for registration of digital media platforms such as websites and YouTube channels that provide online news content.
The change of tone from the President is already causing a trickle-down effect. Senior government officials are taking their cue from the top by displaying more openness and willingness to engage in dialogue with the media.
The theme of this year's World Press Freedom Day, "Journalism Under Digital Siege," spotlights surveillance and digitally-mediated attacks on journalists..
A free media, both offline and online, is needed now more than ever for Tanzania to attain its aspirations of economic development, national reconciliation and build a vibrant democracy.
In terms of the country's media landscape, we are beginning to see the light at the end of the tunnel, but we are not out of the woods yet.
Many of the old threats to media freedom in Tanzania still persist under the new government, including the presence of regressive laws and regulations.
Journalists and media workers continue to face threats against their safety, intimidation and arbitrary arrests in the line of duty.
Incidents of press freedom violations by local government officials and other authorities are still being reported in the country, although both the frequency and severity of the infringements have declined compared to the previous five years.
Regressive laws such as the Media Services Act (MSA) of 2016 have created a chilling effect that impedes the ability of journalists to work freely, forcing many media outlets to resort to self-censorship.
Strict internet regulations under the Electronic and Postal Communications Act (EPOCA) of 2010 have also effectively muzzled free speech.
The government has announced plans to form a joint committee with local media stakeholders to review repressive laws, and has sought views from selected media organisations on proposed amendments to the MSA.
To end the pattern of press freedom violations, a more inclusive and tangible media law reform agenda is of paramount importance.
We must seize this opportunity and translate the media-friendly rhetoric from President Hassan's administration into comprehensive media law reform.
We know all too well how the media environment in Tanzania can abruptly and horribly go wrong with just a change in tone at the top.
Fumbuka Ng'wanakilala is the national director of the Media Institute of Southern Africa- Tanzania Chapter (MISA Tanzania)