Prime
What the United Arab Emirates wants in Tanzania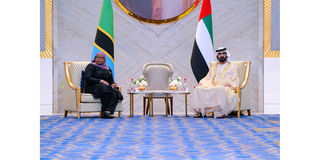 What you need to know:
Although historical connections between the two nations have existed before, the UAE's recent surge in Tanzania follows a string of agreements made during President Samia's participation in Expo Dubai 2020.
The Middle East, strategically positioned at the crossroads of Africa, Europe, and Asia, has been a major player in shaping world history for millennia. Today, however, the Middle East is shaped more by events in Dubai than those in Cairo, Baghdad, or Damascus. That transformation is propelled by the small but overambitious nation – the United Arab Emirates.
Six decades ago, the UAE was a cluster of villages, often noted for their backwardness. Yet, the discovery of oil in the late 1950s, coupled with visionary leadership and savvy investments, triggered a remarkable metamorphosis. Presently, the UAE stands among the world's elite, attracting hordes of tourists and businesses eager to set up shop on its shores.
Tanzania is now the latest nation to come under the UAE's strategic lens. Although historical connections between the two nations have existed before, the UAE's recent surge in Tanzania follows a string of agreements made during President Samia's participation in Expo Dubai 2020. These agreements encompass the contentious $500 million DP World deal, Masdar's ambitious 2 GW power project, and the predatory management contract for DART. With a combined valuation of $7.5 billion, these deals unmistakably convey a very determined intention.
But that is nothing new for the UAE. That is how the UAE has been engaging the world since its early stages. With barely 30 years of independence, the UAE was already collaborating with NATO forces in Kosovo. It later partnered with the Americans against the Taliban in Afghanistan. Recent interventions in Libya and Yemen, along with the establishment of military bases in Yemen, Eritrea, Somalia, and Somaliland, manifest the nation's proactive engagement.
With a population of 10 million, of which only 1.4 million are natives, the question arises: what does the UAE want in Africa, particularly in Tanzania?
Primarily, it seeks to sustain its hegemony over African business. Dubai has emerged as a business hub for Africa, boasting nearly double the number of multinational HQs serving Africa compared to those on the entire continent. Today, over 30,000 African-owned businesses have found a home in Dubai. While Dubai's strategic location, business-friendly environment, and easy access to Africa underpin its success, its role as a tax haven and a nexus for African gold smuggling enhances its stature. While Africans may find the notion of an African business hub that is outside Africa disconcerting, the UAE is steadfast in preserving that position. And that is what informs its strategy everywhere.
Furthermore, the UAE wishes to acquire ports to regulate their performance and ensure the stability of Jebel Ali Port, which contributes 21 percent of Dubai's GDP. With oil contributing less than 10 percent of Dubai's revenues, diversification of the UAE's revenue streams is pivotal for the country's sustained economic success. Consequently, the UAE views all ports from Djibouti to Mogadishu and Mombasa to Beira as threats. Thus, the recent upswing in efficiency across East African ports isn't viewed favourably by the UAE. Hence, the UAE would acquire ports to constrain them. The acquisition and operation of Djibouti's Dolareh Port at under 50 percent capacity, as the government of Djibouti observed before sending its forces to retake the port, exemplified this strategy.
Finally, East Africa presents the UAE with a strategic avenue to magnify its geopolitical influence while simultaneously curbing the influence of rivals, i.e., Turkey and Qatar. The UAE's rivalry with these nations for regional supremacy, notably evident in Libya and Yemen, has prompted the strategic deployment of military bases from Eritrea to Somalia. In this region, with hundreds of millions of people across almost a dozen nations, this game plan is poised to be replicated here too, albeit through different maneuvers.
What the UAE wants is power. This aspiration is both defensive and offensive. On one side, the UAE wishes to avoid the tumultuous history that has befallen many an Arab nation, while the other maneuver allows the UAE to amplify its presence, thus safeguarding its interests when circumstances warrant.
It is quite easy to understand the UAE. Just look at Israel. Both nations, while small, possess global ambitions. If confronted with a threat, they intervene from afar. That strategic approach has distinctly characterised UAE's game in the Horn of Africa. That same playbook will be applied to their strategic pursuits in this region too.
The UAE's remarkable success over the past three decades is not a product of complacency. Instead, it hinges on taking calculated risks. Thus, a tiny Arab nation engaging the Taliban in Afghanistan, collaborating with NATO in Kosovo, fostering connections with Israel, and supporting subversive elements in Somalia and Libya all align with its profound global ambitions. The UAE is not going to allow conventional norms to restrain it from achieving its goals.
What we are seeing here is an African nation that is most probably a mere pawn in the UAE's intricate power play.