Wielding power: The challenge of energy leadership in Tanzania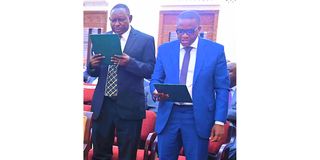 Tanzania is currently in the throes of yet another season of power rationing, a painful annual ritual that has persisted for three consecutive years since the passing of President John Magufuli.
The repercussions of power outages, lasting up to a staggering 18 hours daily, cast an ominous shadow over countless lives and businesses. It's a grim reality that has gripped the nation.
Back in the 1990s, power rationing was an all-too-familiar scenario. As we stepped into the new millennium, optimism flickered, hoping for a brighter future.
Regrettably, that hope has been consistently dashed, leaving the current generation to endure the same hardships that some of us have faced all our lives.
It appears an end to this madness is nowhere in sight, breeding a sense of resignation among citizens who've grown accustomed to the experience.

Yet, there are those among us who refuse to succumb to that learned helplessness. We recognise that this need not be our reality.
And for a moment, I held out hope that Maharage Chande, Tanesco's boss, who was recently moved from the utility by President Samia Suluhu Hassan, understood this.
That was before I heard his disheartening proclamation that what is going on is not power rationing but merely a power deficit. It was a revelation that left me disillusioned.

Presidential appointments in Tanzania often leave us perplexed, pondering how certain individuals ascend to their positions. Our presidents are skilled at conjuring executives as magicians pull rabbits from their hats.
However, Chande was an exception; his remarkable career, including executive roles at Vodacom, NBC, and Multichoice Africa, made his appointment quite deserving. Had he not been beholden to higher powers, he could be doing much better than Tanesco elsewhere.

But Chande's decision to bring politics into matters that demand a scientific approach is disturbing. After all, Chande did an Electronics and Communication degree, majoring in Physics and Mathematics at the University of Dar es Salaam.
I joined that same course a few years later, and, trust me, between doing mathematical analysis of multiple variables, quantum physics, and electronics instrumentation, there was no luxury for rationalising technical failures by invoking politics.

In 1978, American psychiatrist M. Scott Peck penned The Road Less Traveled, a work that delved into the psychology of traditional values. Peck emphasised the significance of discipline and the willingness to confront reality. When truth becomes a casualty, Peck observed, it signals a lack of readiness for the discipline required to yield results.

As a keen observer of the energy sector in recent years, there has been one glaring issue: the persistent underreporting of the exact power demand in Tanzania. South Africa, for example, generates approximately 1GW of power per million people.
However, the government in Tanzania has attempted to convince us that 1.5GW or so is sufficient for 65 million of us! I have vehemently challenged this narrative.
Chande's admission of our power deficiency is a crucial step forward, but what stopped him from saying that it is that deficiency that has caused Tanesco to institute the current load-shedding menace?

The rule of thumb is always that the more people evade reality, the less they desire to take action. Commitment to problem-solving usually leaves no room for politics.

Regarding Tanzania's power crisis, several undeniable truths exist. Firstly, our power deficit is not linked to erratic rainfall patterns. While hydroelectric plants may be affected by drought, many options exist to ensure adequate supply even in adverse conditions.
Secondly, poor acquisitions of independent power providers have exacerbated our power woes, with exorbitant charges burdening both Tanesco and consumers.
Thirdly, opacity in decision-making has fuelled the crisis. Transparency is key; corruption always thrives in the shadows.
The fact is that numerous companies are eager to invest in our untapped power resources.
While some have demanded government guarantees for those projects, I support the Magufulian stance that Tanesco, rather than the government, should provide those performance guarantees.
However, government guarantees aside, I'm aware of projects without such requirements which were thwarted by government officials seeking inflated rates for personal gain. You know, the Tanzanian thing.
For most of Chande's tenure as Tanesco's boss, we knew that he wasn't responsible for Tanzania's energy woes, recognising that he only inherited the situation.
But Chande generally shied away from all the tough decisions necessary to secure Tanzania's energy future. Two years may not be enough to do him justice, but it is ample time to assess his suitability for the task.
Companies like Tanesco demand a decision to confront dubious political interests.
Leading Tanesco is no trivial undertaking; it carries profound responsibilities that impact many lives. One cannot afford the luxury of political correctness when carrying such a burden on his shoulders.
I know that Chande is a mere victim of political expedience—the powers that be prefer to maintain general impotence through sustained impermanence.
But as we look towards a new leadership team for Tanesco, we can at least see a new glimmer of hope ahead.
The trick is to keep us believing.