AG Energies Limited: Bridging the energy transition divide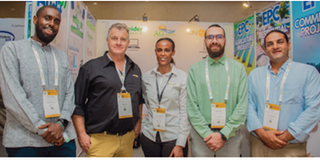 Two large energy summits within two months namely the Tanzania Energy Congress (TEC) that was held from September 20 to 21 and the Mining and Investment Forum that took place from October 25 to 26, speak more of relentless efforts by the Tanzanian Government to fast-track an inclusive, just and equitable transition from fossil fuel-dependent energy systems to more efficient, sustainable and clean energy systems.
AG Energies Ltd is that market leader to really bank our hopes on as we are looking to reshape the energy outlook. Here is a snippet of the conversations between AG Energy Ltd Chief Executive Officer (CEO) Ahmad Ghaddar and Operations Manager Mussa Ibrahim and our reporter:
Qns: AG Energies is among the key energy stakeholders that aim to win the war against carbon emissions. How true is that thinking? And why do you think the Tanzania Mining and Investment Forum 2023 is relevant to you?
Ans: The Tanzania Mining and Investment Forum 2023 holds great relevance to AG Energies because it serves as a platform for us to showcase our dedication to sustainable energy practices. This forum provides an opportunity to engage with like-minded stakeholders, share our expertise, and collaborate on innovative solutions for the energy sector in Tanzania.
Qns: The forum is held by a compelling theme: Unlocking Tanzania's Future Mining Potential  and AG Energies is far beyond the calling as it already envisions making clean energy a secure, renewable and resource-friendly energy supply accessible to all urban and rural areas by 2050 in Tanzania. How is this vision possible?
Ans: Our vision of making clean energy secure, renewable, and accessible to all urban and rural areas in Tanzania by 2050 aligns perfectly with the theme of 'Unlocking Tanzania's Future Mining Potential.
To make this vision possible, AG Energies is committed to investing in cutting-edge renewable energy technologies such as solar and wind power, actively expanding our infrastructure to reach remote and underserved areas, fostering partnerships and collaborations with government agencies, local communities, and other stakeholders, and lastly, investing in research and development to stay at the forefront of clean energy innovation.
Qns: Tell us about 'Energy Audit' service. What is it? And why did the launch have to coincide with the forum anyway?
Ans: Our 'Energy Audit' service is a comprehensive offering that involves a thorough assessment and analysis of energy consumption and efficiency for businesses and organizations. Through advanced technology and expert analysis, we can identify areas where energy is being wasted and provide tailored recommendations to optimize energy usage and reduce costs.
The launch coinciding with the forum was significant because it allowed us to showcase how this service can benefit the mining industry and other sectors.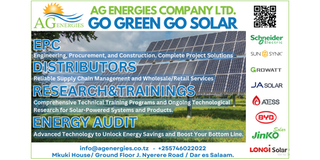 Qns: As a country, what are we going to garner from the regular energy forums hosted?
Ans: Participating in regular energy forums offers our country valuable opportunities for knowledge sharing, international partnerships, and showcasing our commitment to sustainability. These forums play a vital role in addressing global energy transition challenges and fostering collaboration to achieve cleaner and more sustainable energy solutions worldwide.
Qns: Existing since 2015 in Tanzania, would you tell us more about your offerings? And why should we choose you and no other firms?
Ans: AG Energies has been a leading provider of customized clean and sustainable energy solutions in Tanzania and Zanzibar since 2015. Our offerings encompass a wide range of products and services tailored to meet the unique energy needs of both urban and rural areas.
Our portfolio includes solar-powered systems, energy-efficient products, electric components, inverters, batteries, and more.
We specialize in the installation of solar-powered projects, making renewable energy accessible to communities across Tanzania, even in remote areas. What sets AG Energies apart is our unwavering commitment to quality, innovation, and customer satisfaction. Here's why you should choose us over other firms:
Qns: What are notable milestones evidenced, challenges encountered and their navigations and a way forward?
Ans: Over the past five years, AG Energies has achieved several significant milestones. In addition to serving Tanzania and Zanzibar, we have expanded our operations beyond borders into countries such as Zambia, Burundi, and the DR Congo.
During this journey, we have encountered and navigated through various challenges, such as the need for robust infrastructure, evolving regulatory environments, and the task of building market awareness.
Looking ahead, our vision for the next five years remains ambitious and focused on sustainability, expanding reach and research.