CRDB Bank's Kijani Bond: Invest sustainably with the highest 10.25 precent yield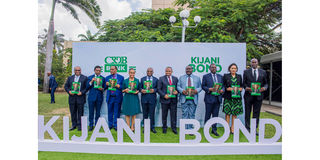 What you need to know:
Kijani Bond bond inquiries can be directed to the Customer Ser­vice Center via the toll-free number 0800008000 or info@crdbbank. co.tz.
From cutting a one percent off its profits for facilitating local environ­mental initiatives, unveiling a mul­ti-shilling worth program for financ­ing climate-resilient and adaptation projects to now issuing lucrative green bonds, there's no holding CRDB Bank when it comes to the sustainability financing.
The newly launched Kijani Bond (a Swahili connotation for 'Green') by CRDB Bank is said to be the largest climate bond ever not only in Tanzania but across sub-Saharan Africa.
The issuance of the Kijani Bond, with its multi-currency Medium Term Note (MTN) Programme of $300 million, signifies a monumental stride toward realizing the Tanzania's National Financial Sector Develop­ment Master Plan 2020/21 – 2029/30, a strategic blueprint to empower both public and private sectors for the great­er welfare of the people.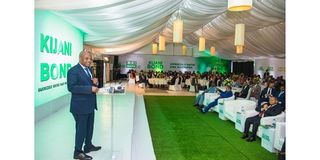 CRDB Bank's green bond assures an investor of a gainful coupon rate of 10.25 percent per annum, the highest return that you can rarely accrue from other commercial institutions.
On top of that the interest rate is paid off twice a year, after every six months, making an investor assured of its cash within a short period of time. The investing window has been open since Aug 31st and will close on Oct 6th, 2023. After that, it will be listed at the Dar es Salaam Stock Exchange (DSE).
A good news is that the bond has already attracted some renowned global investors, including the Inter­national Finance Corporation (IFC), a member of the World Bank Group, which intends to invest 40 percent of the total issuance, $300 million, following its launch.
This continues to amplify the lend­er's confidence as the top ten stable and safer bank to invest – ranked by the world's most respected rating agen­cy, Moody`s Investors Services, cou­pled with 'the best bank in Tanzania' accreditation and recognitions from the UN Green Climate Fund, Global Finance and Euromoney Magazine on different occasions.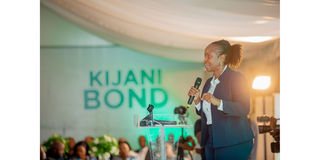 It is understood that the Bank envi­sions raising to the tune of Sh40 billion out of the bond (with a green shoe of up to Sh15 billion) during this first phase, which cements the prospective inves­tors' trust in this lucrative financial instrument.
Minister of State, President's Office for Investment and Planning, Prof. Kitila Mkumbo who graced the histori­cal inaugural event in the Serena Hotel, Dar es Salaam as the chief guest, among others, extolled the Bank's ground­breaking move, reckoning it as a sus­tainable investment as the lender con­tinued to unlock financial pathways to the successful green bonds market. "CRDB Bank has already set an exem­plary precedent," he remarked.
In addition, Minister Mkumbo high­lighted the Government's dedication to fostering an enabling environment for investors by enhancing existing policies, laws, and regulations.
Debunking circulating misinforma­tion, CRDB Bank's Group CEO and Managing Director, Abdulmajid Nse­kela stated that Kijani Bond is acces­sible to all. "This is an investment that even a layman can partake in and bene­fit from, with a minimum initial invest­ment of just Sh500, 000," he added.
For his part, CRDB Bank's Board Chairman, who expressed deep grati­tude to the Capital Markets and Secu­rities Authority (CMSA) and other stakeholders who contributed to the approval of the green bond, remarked; "CRDB Bank has often been a pio­neer." Dr Laay also hinted that both local and international investors have the opportunity to benefit from this bond, as it offers investment opportu­nity multiple currencies.
Tanzania Capital Market and Secu­rities Authority (CMSA) Chief Execu­tive Officer (CEO), Nicodemus Mka­ma lauded CRDB Bank for achieving that historic milestone and green bond compliance with international stand­ards. "We expect that Kijani Bond will be instrumental in further developing green financing in Tanzania," he insist­ed. The CMSA's endorsement under­scores its confidence in CRDB Bank's commitment to sustainable financ­ing and sets the stage for significant growth in climate financing.
Capital Markets, FSD Africa - Direc­tor, Evans Osano said that the mile­stone in green bond issuance reflects on the fastest-growing green econ­omy in Tanzania and presents huge investment potential for an inrush of investors from within and outside the country. "As the first green bond to be issued in Tanzania, it is also a major moment for the sustainable finance agenda in Africa and we are proud to have been able to provide the technical assistance," Mr Osano added.
The issuance of the Kijani Bond demonstrates CRDB Bank's dedica­tion to environmental, social, and gov­ernance (ESG) principles, strengthen­ing its position as a key player in green financing.
How to invest in CRDB Bank's green bond
To invest, you should visit the near­est CRDB Bank branch or authorized broker by CMSA. There you will be given a form to fill your details includ­ing the CDS account. If you don't have a CDS account you will be assisted to open, you will be required to provide TIN number, NIDA number, and pass­port size to open a CDS account.
After filling in details in Kijani Bond form including the amount you want to invest, you will be required to trans­fer/ deposit the amount you want to invest to a Kijani Bond account (avail­able in the form).
For those living abroad, you can download Kijani Bond form from the Bank's official website www.crdb­bank.co.tz, and once you complete filling the form and transfer/ deposit amount, you will be required to submit the formand the receipt through the email: capitalmarkets@crdbbank. co.tz. Kijani Bond bond inquiries can be directed to the Customer Ser­vice Center via the toll-free number 0800008000 or info@crdbbank. co.tz.