Street food vendors are key for growing urban populations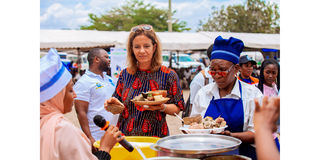 By Stella Kimambo 
Street food can be delicious, quick, filling, and familiar, and it is available 24 hours a day, seven days a week, saving time and mon¬ey on cooking.
Street food is often less expensive than home cooking, and many people would rather eat out than cook. 
Street food is a popular source of food for an increasing number of middle-class city dwellers, as well as a vital source of income for thousands of low-income wom¬en and men.
Meanwhile, urban sprawl has led to an increase in commuters who live on the out¬skirts of major cities but work in city centers, relying heavily on street food for breakfast and lunch. 
Moreover, street food vending is informal, with unplanned vending spaces. Many street food vendors operate in prohibited areas and public spaces, such as sidewalks, that are not designed for vending.
As a result, conflicting interests arise between street food vendors and authorities. 
Street food vendors prefer high-traffic areas, city centers, and transportation hubs, while local governments frequently prohibit vending in those areas for public health, security, or aesthetic rea-sons, including facilitating vehicle and pedestrian flow, avoiding trash and odors, preserving histor¬ical sites, and pursuing a modern urban aesthetic.
 
Local government authorities have attempted to relocate street food vendors into markets with sanitary facilities, but relocation is rarely successful due to the high cost of a vending slot rent, and the vendors themselves are determined to remain on the street to be more visible. 

Forced evictions and equipment seizures are common among street food vendors, resulting in a temporary suspension of vending that is gradually restored after a short time, making them unwilling to upgrade their equipment at the expense of food safety. 
Improving working conditions for street food vendors 
To date, FAO has constructed eleven environmentally friendly model food vendor outlets with seating capacities ranging from eight to 12 people.
As More than 527 street food vendors in Dar es Salaam and Dodoma have been trained in meal planning, business management, and food safety and hygiene practices. 
In addition, 1,050 kitchen kits (aprons and kitchen utensils) were distributed to street food vendors in those two regions to improve the safety of street food.
The Food and Agriculture Organization (FAO) is also implementing an urban food agenda through the European Union (EU) funded Agri-Connect project to support the country in addressing agri-food system challenges such as food safety concerns and nutri¬tionally unbalanced menus.
The initiative is being carried out in partnership with the Ministries responsible for Agriculture and Health, as well as the Dodoma Small Industries Development Organization (SIDO) and local governments in Dodoma and Dar es Salaam. 
To facilitate the sale and deliv¬ery of agricultural goods, livestock, fish products, and street foods FAO will develop and launch a mobile application (Food Location and Availability System (FLAS). The public will be able to access healthy eating recommendations based on Tanzania's Food-Based Dietary Guidelines (FBDGs). 

The app, which will include menu items and pricing, will be available on Google Play and the App Store.
Vendors without smartphones will be accommo¬dated by the application, which will display a QR code for payment at their stalls. These initiatives are expected to make street food safer and more nutritious, attract more customers, and increase food vendors' income. 

*The author is the Food Security and Nutrition Specialist- at FAO Tanzania